Last update March 21, 2009


The Grigsby Connection






Four women and Korea: Joan, Lilian, Mary and Jessie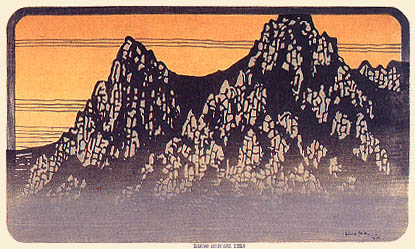 ---

Joan Savell Grigsby, Lilian May Miller, Mary Linley Taylor, Jessie McLaren

Four remarkable women. One was born in Scotland, one in Japan, one in England, one in Australia.

Joan Grigsby forms a link between them, for she lived in Mary Taylor's home in Seoul, and Lilian had been Joan's friend during the time she spent in Japan a few years earlier while Jessie helped her discover Korea.

Joan was a poet, Lilian an artist, Mary had been an actress, Jessie was a translator and teacher.

---

1. Joan Grigsby Part One (The family origins and the childhood of Joan Rundall)
Part Two, Joan Rundall and Arthur Grigsby, their marriage, travels to Canada, Japan, Korea and back to Vancouver.
Part Three, Faith Norris's account of the Grigsby family's stay in Seoul 1929-1930

Lists of English translations of Korean poetry usually begin with The Orchid Door: Ancient Korean Poems by Joan S. Grigsby (Kobe: 1935). But no copy of her book is available in any library in Korea and virtually nobody knows who she was or what poems she included in her volume. The book itself tells us little. Published in 1935 by J. L. Thompson & Co. (Retail) Ltd. in Kobe, Japan, it is in Japanese style, the text printed on one side of thin paper which is then folded to produce recto-verso pages, bound in boards covered with pale blue silk, it is illustrated with five black-and-white prints by Lilian M. Miller.

There exists a biography of Joan Grigsby, Dreamer in Five Lands, written by her daughter, Faith G. (Grigsby) Norris, a professor of English literature at Oregon State University from 1946 until she retired in 1980. In April 1992 Faith Norris died. Her family resolved to have the memoir published as a memorial and in 1993 it was published by a tiny Oregon press, Drift Creek Press, in a thousand copies.

There were many secrets about her mother that Faith Norris never suspected, and rather too many details that she got wrong, but thanks to this memoir, it is possible to begin to situate The Orchid Door and the other volumes of poetry she wrote in their human context. By it, we know that Joan was born in Scotland in 1891, married Arthur Grigsby in 1912, published 3 volumes of poetry, arrived in Japan via Canada in 1924, spent the years 1929-30 in Korea, moved to Vancouver and died there of cancer in 1937, still young.

These pages have been prepared with much help from Joan Grigsby's granddaughter in California, her nephew in Cambridge, England, and Arthur Grigsby's grandnephew in Nicaragua. Without the Internet and Google searching, none of this would have been possible.

Photos of Joan
The family history of Joan's husband Arthur and some photos of the Grigsby family

---
The poems of Joan Rundall / Joan S. Grigsby

1916 : Songs of the Grey Country
Read: The Poems [also in a PDF file for easier printing]

1919 : Peatsmoke
Read: The Poems [also in a PDF file for easier printing]

1919 : Not Naughty Now (poems for children)
Read: The Poems [also in a PDF file for easier printing]

1929 :Lanterns by the Lake
Read: The Poems of Korea about her first impressions of Korea
Read: The Poems [also in a PDF file for easier printing]

1931: Two poems published in Asia magazine, perhaps her last original poems to be published.

1935: An article published in Asia magazine using material from The Orchid Door with prints by Lilian Miller, perhaps sent in at a time when she was not sure that the full collection would ever be published.

1935 : The Orchid Door Ancient Korean Poems
Read: The Introduction
Read: The Poems [also in a PDF file for easier printing]
Read: The Poems with the James Gale translations on which they are based

An article on "Medievalism and Joan Grigsby's The Orchid Door" in which I discuss her debt to the poems of "Fiona McLeod"

---
2. Lilian Miller
Of all the Western artists who lived and studied in Japan before the Pacific War, Lilian May Miller was probably the only one who was born there. She was schooled under prestigious Japanese masters until her father accepted a position with the State Department in 1909. She graduated from Vassar College and shortly thereafter returned to Japan to continue studying painting. Her father was now the Consul General in Seoul. In 1919, she was one of only 5 top prize-winning artists in a Japanese competition of 500 paintings. She turned to woodblock prints the following year. She published one collection of poems, Grass Blades from a Cinnamon Garden, in 1927. Her father died in 1932. In 1935, she helped Joan Grigsby publish The Orchid Door in Kobe after British publishers had refused it. In 1936, after Japanese radical officers assassinated several leading politicians, Miller and her mother moved to Honolulu and from there to California. The attack on Pearl Harbor mobilized Miller to store her brushes and she signed on with a Naval counter propaganda branch as a Japanese Censor and Research Analyst. In 1935, Miller had had surgery for a large cancerous tumor and in 1942 another tumor was discovered. Lilian Miller died in 1943 at age 47.

See a slideshow of her Korean prints or view a selection of her woodblock prints of Japanese and Korean subjects

1927: Grass Blades from a Cinnamon Garden
Read: The Poems [also in a PDF file for easier printing]
Read: a few of the Poems (mostly those on Korean topics)

---

3. Mary Taylor

Born in 1889, Hilda Mouat-Biggs grew up as a doctor's daughter in Cheltenham, England. She was not interested in studying but longed to be an actress. When her chance came, at the start of the First World War, she took the stage name Mary Linley after a famous 'ancestor,' toured in England, then set off as a member of a touring company that was to act plays across India, Sri Lanka, Malaya, and as far as Japan. In Japan she met "Bruce" Taylor (really "Albert" but he disliked the name), the owner of gold mines in Korea, where he had been living for many years. He joined her months later in Calcutta, proposed the same day, and they were married on June 15, 1917 in Bombay. Their son Bruce was born as Korea was demanding Independence from Japan in 1919. In 1923, their splendid house, named Dilkusha (heart's delight) after the ruined palace she had once visited in Lucknow, arose on a hill above Seoul. Then Bruce fell gravely ill and in 1925 or so, while he was being treated in California and Mary was with him, Dilkusha was struck by lightning. It was rebuilt and in early 1929 Joan Grigsby, with Arthur her husband and Faith her daughter, moved into rooms on the upper floor. Mary Taylor returned later in 1929, and introduced Joan to many interesting people. Alas, she does not mention the Grigsbys in her autobiography, Chain of Amber, which is an impressive account of life in Korea under Japanese occupation. Forced to leave at the start of the Pacific War, she only returned once, briefly, in 1948, to bury her husband's ashes beside his father's grave in Seoul. She died in 1982 in California. Her autobiography, Chain of Amber, was published in 1992.

Photos of Mary A page about the Tickell family to which Mary's mother belonged

---
4. Jessie McLaren who gave Joan Grigsby her translations of the poems by kisaeng

Jessie and her husband were not perhaps very close to Joan, but Faith Norris says it was Jessie who first made Joan aware of the harsh lives Korean women had to endure. Then, shortly before the Grigsbys left Korea, Jessie gave her copies of her translations of poems by Gisaeng which she then included in The Orchid Door.

---
Other remarkable people named in these pages:

The Boydell family from Australia were living in Dilkusha and welcomed the Grigsby family there when they arrived in Seoul in 1929. They too have a story to tell.

Elizabeth Keith was an artist of the same period who also depicted Korea as well as Japan in her work.

The Anglican Bishop of Seoul, Mark Napier Trollope, encouraged Joan to learn more about Korea, as did Dr. H. H. Underwood. Read Dr. Underwood's tribute to the Bishop, who died only a few days / weeks after the Grigsbys left Korea.

The Canadian missionary and scholar James Scarth Gale (see: outline chronology) seems to have inspired Joan by his History of the Korean People (Richard Rutt edited a reprint with a biography of Gale, it is available from the RAS-KB) which provided her with most of the translations she was to transform and paraphrase for The Orchid Door. He left Korea in 1927 and spent his retirement in Bath, England, dying there in 1937, just a few months before Joan Grigsby. See the Gale Archive (PDF file) in the Library of the University of Toronto, Canada.

---