Most recently updated: September 29, 2008

Joan Grigsby (1891 – 1937) Part One: Family Background and Childhood




---
Anyone seeking all the essential information about the family origins and life of Joan Rundall / Joan Grigsby / Joan Savell-Grigsby might expect to find it in the biography Dreamer in Five Lands by Faith G. Norris (Philomath, Oregon: Drift Creek Press.1993). After all, the author was her daughter, born in 1917, a university professor. Surely a reliable witness? So I thought.

However, it soon became clear that the contradictions which I found existed between the account of Joan's family and her childhood given by Faith Norris (based largely, she says, on things her father told her in the years after Joan died) and the facts revealed by certificates of birth, marriage and death as well as other sources were very considerable.

Finally, I wrote to Faith Norris's own daughter in California, Joan Norris Boothe, who had published Faith's book after her death, in the hope that she might be able to help. She replied that she had only learned the truth about her mother's family origins a few weeks before I contacted her, through a phone call from Philip Rundall, the son of Joan's brother, John Wingate Rundall. He had, amazingly, bought and read Dreamer in Five Lands at almost the same time as I had. Born in 1947, he knew the whole family story very well and had met all the members of Joan's generation in his youth (some very briefly), but had never had any contact with Joan's daughter. Bewildered by what he read in Faith's book, he felt that he should tell Joan Norris Boothe the truth and finally traced her phone number, while I found her mailing address.
She told him of my research, and he emailed me with much additional information. This page is therefore an attempt to record as accurately as possible the true picture of Joan Rundall's family; the reason why she set about creating a fictional family and childhood for herself is something we can only guess at.

A brief summary of Joan's origins begins the page containing the rest of the Joan Grigsby story.

---
Joan's parents and her childhood

A. Joan's Fantasy (As reported 50 years later by Faith Norris)

It is a tribute to her mother's story-telling skills that in 1982, Joan Grigsby's daughter and biographer, Faith Norris, a retired professor of English literature, went on a pilgrimage across Scotland, all the way to the Hebrides, so firmly she believed that her grandmother had been a poor woman, Janet McLeod, born there in 1860, on the island of Lewis. According to this story Janet learned nursing in Edinburgh, then went on to become matron at a boys' preparatory school, St. Ninian's, that had opened in the town of Moffat in 1879. She died of cancer in 1902 aged 43, leaving five children, the eldest being Joan. Joan's father, John Rundall, had come to St. Ninian's as a teacher after studying divinity (theology) at Cambridge, a fact never mentioned by Joan and only discovered later, during the same journey in 1982.

Faith Norris believed that John Rundall's father, Herman Rundall, had been part of a large Jewish lace-making family which had moved to Brussels in the 1840s to escape a pogrom in Poland. In the 1850s, when Belgium in turn became a difficult place to be Jewish, the rest of the family went to live in Germany, but Herman and his Belgian wife moved to Edinburgh, continuing to make lace. The name the family had used in Belgium had been Hirondelle, which they changed to Rundall once they were in Scotland. They only had one son, John, who was baptized as an Anglican at birth. If he went to teach in that obscure school rather than enter the parish ministry in England, Faith Norris suggests, it might have been because his features were strongly "Semitic" and in those days anti-Jewish prejudices were very strong in upper-class England. Herman Rundall had money, and he donated much of it to St. Ninian's. Perhaps because of that, John became the school's headmaster.

Her story says that no one could say why he married the school's almost uneducated matron, Janet McLeod, or what his father thought of it. Janet continued to work as matron after her marriage, while caring for her five children. She died in 1902, when Joan was nine. Six months later a bank crash almost ruined Herman and wiped out all John's savings. John died of a heart attack early in 1903, perhaps from the shock of that. Joan stayed on at St. Ninian's where her aunt, Fiona McLeod, had taken her mother's place as matron, sharing a room with her and acting as her assistant.

Joan never attended regular school, but her grandfather had her learn French, his wife's language, and the French teacher made her memorize French Romantic poetry. She told him she was trying to write poetry in English, so he spoke to the school's literature master, who met with her occasionally and recommended what books she should read. Otherwise, she could wander in the countryside, read what she wanted. She loved walking in the countryside. On Joan's eighteenth birthday, her grandfather came to the school to decide on her future. She had never studied music or art, so could not be a governess. The only option was to go to a secretarial school in London to learn typing and shorthand. She could live in the house of a friend of her father's Cambridge days, a married vicar, her grandfather would pay for her lodgings and studies.

That is a beautiful, romantic story, but almost none of it is true.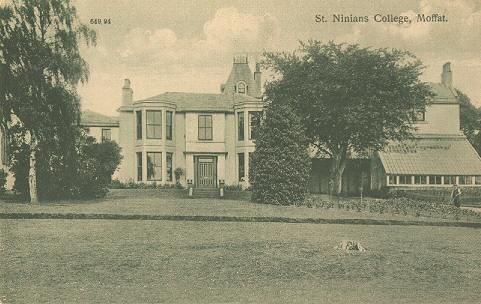 B. The Facts from the official record and the family memory

The official Scottish records of births show that the woman known to us as Joan Rundall (later Grigsby) received at birth the names Charlotte Ada Joan. She was born at 9:30pm on December 19, 1891 at the house called Gowan Bank, Moffat, Dumfriesshire (Scotland). Her father's name is given as John William Rundall (clergyman), but her mother's name was not "Janet McLeod" but Constance Ethel Rundall (born Pearse). Their marriage date is given as April 10, 1890, in Walton near Bletchley, Buckinghamshire (England).





Another official Scottish record shows that John William Rundall's widow, Joan's mother, Constance Ethel Rundall, died of cancer of the liver on September 22, 1909, aged 49, not in 1901 as Faith Norris believed. The names of her parents (Joan's maternal grandparents) are given on her death certificate as George Wingate Pearse (Clerk in Holy Orders, deceased) and Charlotte Pearse (Smith, deceased). She died at 20 Dublin Street, Edinburgh and the death was reported by her brother H. C. Pearse of Mildenhall, Suffolk.






Joan's father, John William Rundall, was born in 1858 in Dowlaispura, Madras, India, younger son of General Francis Hornblow Rundall (Dec 22, 1823 - Sep 30, 1908), Royal Engineers, and Fanny Ada Seton Burn (Rundall), the daughter of Captain William Gardner Seton Burn (3rd Light Dragoons, buried in Vizagapatam) who was married to a Miss Hewett of Duryyard, Exeter. Her father was William Kellitt Hewett of Jamaica, who later owned the very fine estate of Duryard, near Exeter. His funeral tablet is in the aisle, behind the bishop's throne, in Exeter Cathedral. He died 24/6/1812. Capt William's father was General Seton Burn, of the Indian Army. Fanny Ada Seton Rundall died 13 October, 1889, at Thun, Switzerland, where she is also buried. Originally the family's name seems to have been Seton and it claims a link to Christopher, married to Margaret, the sister of Robert the Bruce. General Francis Hornblow Rundall was Inspector-General of Irrigation and Deputy Secretary to the Government of India (1871-1874). The General's father was Lt Colonel Charles Rundall, Judge Advocate General of the Madras Army. He died, along with his daughter Henrietta, from ptomaine poisoning (from almonds in soup!). Charles Rundall's father, John Rundall, was a ship's purser, in the Indian Navy.

John William's older brother Frank Montagu Rundall later followed in his father's footsteps, serving in India, Burma and China. Known as Montie, he married Rosa Bickersteth, a daughter of the Bishop of Exeter. He became Colonel of the 4th Gurkha Rifles and was awarded the C.B. the D.S.O. and the O.B.E.

The General also had three daughters: Ada Henrietta (b. 1848 d. 1932). She married Thomas Edmonstone Charles M.D. L.L.D. I.M.S. He was a professor of mid-wifery (known as the Deliverer of Bengal! He later was Surgeon General and an honorary physician to Queen Victoria and Edward VII). Katherine Laura (b.17.8.1849 d. 1920s. She married Lt. Col. Eric Fraser Smith-Neill). Mary Raby (b. 18.12.1860 d. 17.6.1935) Married Rev. Frank Wingate Pearse).

Joan's father, John William Rundall attended Pembroke College, Cambridge, 1878 – 1882, (scholar, 1878); B.A. 1st class Classical Tripos 1882. Deacon 1883, Priest 1884 (Glasgow and Galloway). Assistant master, St. Ninian's Preparatory School, Moffat 1882-7, headmaster 1887 – 1903. Curate-in-charge, Moffat, 1883-5, assistant priest 1885 – 1903. He died on 31 July, 1903 in Falmouth, Cornwall, after several months' illness.

On April 10, 1890, in Walton near Bletchley, Buckinghamshire, the Rev. John William Rundall married Constance Ethel Pearse, the second daughter of the Rev. George Wingate Pearse, the rector of Walton, Bucks.

George Wingate Pearse was Rector of Walton for nearly 50 years, from 1850 until 1899; he died 26 December, 1899 and was buried at Walton. The Pearse family comprised 13 children: Constance Ethel; George Wingate Chernocke; Charles Bryant; Charles Edward; Francis Wingate; Mary Louisa; Henry Thomas; Helen Lucy; Bertha Anna; Arthur Wingate; Mabel Charlotte (a nurse at St. Bartholomew's Hopital, London, the person who reported the death of John William Rundall, who must have been caring for him in Falmouth); Stephen Wingate; Hugh Chernocke (who was present when his sister, Joan's mother, died). On 5 April 1891, the day of the 1891 census, W. Ro. Heneage (farmer) and Mary L Heneage (farmer's wife), were staying with the Rundalls at St. Ninian's School, this farmer's wife being Mary Louisa, Constance's sister.

Constance's mother's name was Charlotte Chernock Smith, whose father was the Reverend Boteler Chernock Smith. Constance's grandfather, George Pearse, was married to Elizabeth Jennings. He was a magistrate, Deputy Lord Lieutenant of Bedfordshire and High Sheriff in 1822. They lived in Harlington House in Harlington, Bedfordshire (Harlington Preparatory School, Rev Frank Wingate Pearse's school in N. Wales, was clearly named after the house). Elizabeth was the Wingate heiress, being the daughter of Anna Letitia Wingate, a descendant of Francis Wingate, who imprisoned John Bunyan.

John William Rundall and his wife had six children: Charlotte Ada Joan (born December 19, 1891); Margaret Gertrude (born December 17, 1895); John Wingate (born July 15, 1898); Eleanor Constance (born February 14, 1897) and Francis Anthony (born November 5, 1899). Oddly, the name of the fictitious Jewish grandfather, Herman, emerges into fact as John Hermann Rundall on February 11, 1894, as the name of a baby born with the terrible condition known as spina difida, only to die on that date, his birth fifteen days earlier not being registered.

John Wingate Rundall became Lt. Colonel in the 1st Gurkha Rifles. He retired from the Indian Army in 1947. His son writes: "He was an able amateur artist; could sing well and he also could write well (although nothing was published). He was a keen mountaineer and a member of both the Alpine and Himalayan Clubs. After his mother died, he was shipped off to live in Camberley with his aunt Ada Rundall Edmonstone Charles. He hated this, finding it oppressive, and it put him off religion for life. He was forced to go to church several times on a Sunday and he described kicking against this by cutting up his Sunday suit with a pair of scissors! Right to the end of his life, my father harked back to his childhood among the Moffat hills, the place where his lifelong love of mountains began. He would talk of tickling for trout and describe The Old Mare's Tail, the waterfall, up in the hills nearby (see the first of the photos in Dreamer). My father regarded himself as a Scot and he could speak a bit of Gaelic. He was very proud of Fanny Seton Burn's ancestry, which was Scots.".

Francis Anthony Rundall was a major in the Scots Guards, he married Beryl Day. Their son Jeremy (1931 - 1976) was the radio critic for the Sunday Times.

Eleanor Constance Rundall went to India, where she married. Her husband, Norman Bor became Director of the Forest Research Institute at Dehra Dhun. He was a world authority on Asian grasses and returned to England to become Assistant Director of Kew Gardens. Eleanor came all the way from India to visit Joan Grigsby in Vancouver a year or so before she died. She wrote The Adventures of a Botanist's Wife about their life in India

Margaret Gertude Rundall (known as Meg) married Donald Watson, a rubber planter, out in Malaya. They had two daughters, Sheila, who died in 2004, and Primrose (known as Dandy). When Meg was widowed, she was housekeeper for her sister Eleanor and her husband Norman Bor, when they returned to England (at Kew Gardens). Apparently Eleanor treated her like a servant, which fits in with Faith's description of how both Joan and Eleanor despised her, as girls. John Wingate Rundall's son writes: I remember Meg as a tolerant and kind old lady.

It might be noted that John William Rundall is reported to have been the author of one book, Bridges, published in 1890. His father, General Rundall, being an engineer, was widely known and respected as an expert on canals and barrages and was consulted in relations to the building of the Suez Canal and other Egyptian projects.

General Francis Hornblow Rundall C.S.I., R.E. (Companion of the Star of India), the father of John William Rundall, died at St. Ninian's School on September 30, 1908, of a cerebral hemorrhage. The death was registered the next day in Moffat by his son, Frank Montagu Rundall of 27 Princes Square, London. The General was buried at Moffat. The Dictionary of National Biography (2nd edition) explains that the General (who had retired back to England many years before) died "in the house of the headmaster of St. Ninian's, his son-in-law, the Rev. Francis Wingate Pearse," who later, 1929 – 1938, served as the rector of the church in Moffat as well as being the school's headmaster. John William's diary of 1896 describes reading aloud to each other, his being taught to etch by Constance, going on sketching trips with his father and other members of the family in N. Wales when General F. H. Rundall was living with the Pearses. It was a household where to write or create would be encouraged.

Francis Wingate Pearse (son of the Rector of Walton and brother of Constance, Joan's mother) came to St. Ninian's as headmaster in 1906, from being headmaster of Harlington Preparatory School, Llanbedr, Merionethshire, in Wales (Bertie p.396).

There was a double alliance between the Rundalls and the Pearses; Joan's father, the Rev. John William Rundall, the General's younger son, had married Constance Ethel Pearse in 1890, while her brother the Rev. Francis Wingate Pearse had married Mary Raby Rundall, one of General Rundall's three daughters. Francis Wingate Pearse died on June 29, 1939, in the Western General Hospital, Edinburgh, aged 77, by heart failure provoked by a volvulus of the pelvic colon. His residence at the time was 7 Montague Terrace, Edinburgh. He is described as the widower of Mary Raby. His father, the certificate says, was the Rev. George Wingate Pearse, his mother Charlotte Chernocke Pearse (Smith). The 1901 English census confirms that Mary Pearse had (like her other Rundall siblings) been born in Madras. Under her full name, Mary Raby Wingate (Rundall) Pearse died on June 17, 1935 of a heart attack, aged 74.

Rosa Rundall (wife of Frank Montagu Rundall) wrote an account of her son Montie's life for the benefit of his son, whom he never got to see as he was killed within a day of his brother Lionel (author of The Ibex of Sha-Ping and other Himalayan Stories). Joan's two 1st cousins, Montie and Lionel Rundall (both Gurkha officers) were killed in 1914 at the battle of Festubert, as was another 1st cousin, Alan Charles, son of aunt Ada Rundall Charles from Camberley. The shock of these deaths still reverberates within the family to this day.

Philip Rundall, an artist, the son of John Wingate Rundall, Joan's brother, writes: "My father worshipped his mother; he regularly talked to me about her (although we have no photo of her). He described her as a saint, an incredibly tolerant woman. I have a history of St Ninian's in which she is described as being unusual as she related kindly to the domestic staff. I read a letter in Canada, in which she describes Joanie as being an extraordinary support after John William died. Incidentally she wrote to the general asking for financial support to keep the school afloat. The school was regarded as one of the two top preparatory schools in Scotland. I have John William's diary of 1896 in which he describes the slow process of buying the school from Dowding, the then Head. Dowding's son was Lord Dowding, the head of the Royal Airforce during World War 2. General Rundall became the Inspector General for Irrigation for the Gov. of India and was Colonel Commandant of the Royal Engineers. The graves of baby Herman, General Rundall and Mary Pearse (although she is named Rundall, not Pearse, on the headstone) are all in the beautiful Moffat cemetry. Eleanor, the sister Joan was closest to, was my godmother.

(The fullest single published source of information about Joan's father, John William Rundall, and her uncle, is to be found in David M. Bertie's Scottish Episcopal Clergy 1689 – 2000 (Continuum International Publishing Group, 2001).)



C. The riddle

There are, then, two almost completely different accounts of Joan Grigsby's parents, that related by Joan to her husband (and to her daughter, to some degree) and that which we can reconstruct from the official record. Faith Norris makes it clear (p.17) that she first heard the story of the Jewish grandfather, Herman Rundall, from her father after her mother's death, between 1937 and 1947, when her father died. She implies that the story of Herman Rundall's gifts to the school having perhaps been the reason why Joan's father became headmaster was also her father's, as also the account of her father's "strongly marked Jewish features."


She says that her father first learned of Joan's Jewish ancestry five years after their marriage. Elsewhere she indicates that the revelation of this "truth" was the result of Joan's conversion to Catholicism, and that she wrote it to her husband, then in France, at the command of a priest. There is only one indication that her mother ever told her anything about her childhood; Faith Norris mentions "what my mother called her mother's 'Gaelic-haunted Highland lilt'." She seems to be saying that she heard those words directly.

The essential facts of Joan's father's adult identity are preserved in her own account : he was an Anglican (i.e. in Scotland "Episcopalian") priest who had come to St. Ninian's School as a teacher and had become headmaster of the school, a position he held until his death. The year (though not the month) of his death is correct. Her grandparents, Faith Grigsby correctly says, had five children (p.17), she names two boys as "John and Tony" (p.18) as well as Joan's sisters Margaret and Eleanor.



The true story after 1901


John William Rundall was not simply the headmaster of St. Ninian's, he was its owner, having bought it from the original owners. On his death, it became his wife's property. Philip Rundall writes: "Immediately behind the school is another largish house called Wykeham Lodge. This I believe may be where Constance lived with Joan. In the history of the school it says, after her husband's death, 'Mrs Rundall, however, moving to a nearby house, remained the owner of the property, and even after she died in 1910 [really 1909], leaving two young sons still as pupils at the school, she bequeathed it not to Frank, who, had already been its headmaster for four years, but to her brother Hugh, who, however, soon left to be ordained at Ely, and in 1911 conveyed the property and the school to his brother Frank in consideration of the paying-off of debts which, unsurprisingly in view of the declining numbers, were by now substantial.'


The school's history has a section entitled Interregnum: 1903 - 1906 : 'It is not surprising that on the sudden death of Rundall, at only 44 years of age, a difficult period should have followed. He left the school to his widow (nee Constance Pearse), and she was in nominal command for a while, assisted by her brother Hugh Chernocke Pearse. Nor is it at all surprising that in this unsettled situation numbers declined still further, till in the Spring term of 1906 there were only 15 boys in the school, which must have been on the verge of closure, when another brother, and the second dominating figure in the School's history, came from Wales to the rescue.'


Philip Rundall writes: "My father (John Wingate Rundall, Joan's brother) worshipped his mother; he regularly talked to me about her (although we have no photo of her). He described her as a saint, an incredibly tolerant woman. I have a history of St Ninian's in which she is described as being unusual as she related kindly to the domestic staff. I read a letter in Canada, in which she describes Joanie as being an extraordinary support after John William died. Incidentally she wrote to the general asking for financial support to keep the school afloat. The school was regarded as one of the two top preparatory schools in Scotland. I have John William's diary of 1896 in which he describes the slow process of buying the school from Dowding, the then Head." The school buildings are now a home for elderly ex-RAF men, called Dowding House, after the WW2 Chief of the Royal Airforce, Air Chief Marshal Lord Dowding, the son of the school's founder.

Faith Norris says (p.19) that after Joan's father died in 1903, her brothers remained as boarders at St. Ninian's while the two girls (who were aged 8 and 6 in 1903) went to live with "Herman Rundall and his wife" in Edinburgh. On p.38 she says that in 1916 Margaret and Eleanor had finished their education at George Watson's Ladies College in Edinburgh and both came to London, Margaret to train for the Women's Army Corps and Eleanor to study at a home economics institute. This raises the vexed question of Joan's own education. Primary education had been compulsory in Scotland since 1872. But in 1903 Joan was nearly 12, while Margaret and Eleanor were still small children. There seems no reason to suppose that in fact any of the children left their mother's side before she died in 1909. By that time, their uncle was headmaster of St. Ninian's and might well have taken decisions for their ongoing education and careers. For Joan, already aged nearly 12 in July 1903 when her father died, there was probably nowhere she could go for secondary education and the story that she received informal classes from teachers at St. Ninian's might well be true.

Joan Rundall apparently came to London in 1910 and she met Arthur early in 1912. Since Faith Norris had ample opportunity to talk with her father in the years after Joan's death, we can assume that the narrative from that point is fairly reliable. It seems that Joan invented at least part of her story about her family at that moment. We know that her mother died in September 1909, but Arthur clearly believed she had died years earlier, before her father. Her paternal grandfather was not in fact alive to provide for her as Herman the Jew was later said to have done, but her uncle the headmaster of St. Ninian's might well have felt obliged to do so. The London clergyman to whom she was sent might have been, Faith says, a university friend of her father's and Francis Wingate Pearse might well have had such a friend, for even though he studied at Trinity College, Dublin, (B.A. and M.A.) he was ordained in the English diocese of Rochester. But the 1911 census shows that in fact the clergyman was no other than her uncle, Hugh Chernocke Pearse, still unmarried at 42.


One thing is clear. The fantastic stories that Joan told about her father's family and her mother served to erase completely one essential fact: her parents were both utterly English, she had no immediate Scots blood. Her father was the son of an English general, born in India into a family that was traditionally part of the colonial establishment while her mother was the daughter of an English rector. Something in Joan might have rebelled for some hidden reason. Faith Norris in the opening lines of her memoir testifies that to her dying breath Joan affirmed her Scottishness by her accent, by singing the song of all Scottish exiles, and dreaming of a return to the Highlands and the Hebrides that, in fact, she had never seen.



The Celtic poetess Fiona MacLeod



Joan created an archetypal Hebridean mother for herself, her voice at least still touched by the Gaelic, deeply rooted in Scotland's traditions, poor and uneducated. She called her Janet McLeod, a common enough name. Curiously and perhaps significantly, the fictional aunt Fiona McLeod, with whom she claims she lived and worked at St. Ninian's "after her parents' death," has the same name as a Scottish poet who might well have had an influence on Joan's writing. Her name usually spelled Fiona MacLeod, she was considered a Celtic visionary and romantic in the late nineteenth century, her works being read together with the poems of W.B. Yeats. Readers of the period were enchanted by the marvelous weaving of folklore, myth, vision, and personal observation in her prose and poetry. It caused a great scandal when it was revealed in 1905 that the works attributed to Fiona MacLeod had in fact been written by the male Scottish poet and writer William Sharp. The fictional female pseudonym, and the Celtic identity might both have spoken strongly to the dreamer awakening within Joan Rundall. See the text by Dr. Robert Irvine where he writes:


Arnold once wrote: "no doubt the sensibility of the Celtic nature, its nervous exaltation, have something feminine in them, and the Celt is thus particularly disposed to feel the spell of the feminine idiosyncrasy; he has an affinity to it; he is not far from its secret." What links the Celtic to the feminine is their common marginality to a public culture understood as predominantly masculine. After all, the qualities Arnold accords the Anglo-Saxon ("steadiness", practicality, rationality) are usually gendered masculine, the qualities of the Celt (sensitivity, emotionality, imagination) are usually gendered feminine. The Celt, one might say, seems designed to be, not so much the partner of the Anglo-Saxon in their joint Imperial project, as his wife. By adopting a female persona Sharp is assimilating himself as author to the celtic world that his fictions portray. (. . . ) putting women at their centre, with a fair degree of authority, but as exotic creatures, as inhabitants par excellence of that "alien" celtic world Sharp is setting out to explore. Hence the feminine pseudonym: this exotic world is one to which women might have privileged imaginative access."




At some point Joan also created an archetypal rich, European Jewish grandfather with a Belgian wife (to talk with whom, she claimed, she had learned French). There was, then, only one person she could not recreate: her father. The clergyman and his wife to whom she was sent in London, and in whose house she met Arthur and his mother, would obviously have been told the identity of her father, the deceased clergyman and headmaster. Even the year of his death was clearly fixed in the family memory, and the cause, too, for he did indeed die of heart problems.

Her father's death certificate says he suffered from Endocarditis for 4 months, General Oedema for 1 month, and that then affected his lungs for the last 3 days. Faith talks of two heart attacks. The person who reported the death was a nurse, Mabel Pearse, his sister-in-law (obviously an as yet unmarried sister of his wife) but it is not possible to know why he was in Cornwall though the mild climate might have been thought good for someone with a weak constitution. His wife would have been running the school in his place, presumably.

Joan Rundall was certainly a rebel when possible; even her conversion to Catholicism might be seen as a rejection of her parents' and grandparents' Anglicanism. Her first poems were published in a magazine of the Labour Party. She was always aspiring to a better life elsewhere, she sympathized as she could with the plight of the Koreans, and when they had to leave Asia, she clearly did not consider a return to England, where she still had family, for Francis Wingate Pearse served as priest in Moffat until he retired in 1938. Instead, she insisted on Vancouver because it had looked so beautiful as they left for Japan.
It seems unlikely that we shall ever know if her departure from Moffat after her mother's death was marked by some traumatic event that made her want to reject her mother's and father's family's identities completely. It seems unlikely that wanting to be a Scot and an outsider would provide a strong enough motivation for a whole lifetime, however short, of silence. For it is the Pearse family and the Rundall family that she denies, substituting the McLeods and the Hirondelles for them. Now 'hirondelle' is the French word for a skylark, or just a 'lark,' though not in the joking sense, but perhaps that was her little joke?
---
---
This page is already too long! For the story of her marriage and journeys to Canada, Japan, Korea, and back to Canada, see Part Two