Most recently updated: February 4, 2011





Joan Grigsby (1891 – 1937) Part Two : Marriage, Canada, Japan, Korea, Vancouver



(See also Part One, Joan's Family Background)

---
The initial source of information about Joan Rundall / Joan Grigsby / Joan Savell-Grigsby is Dreamer in Five Lands by Faith G. Norris (Philomath, Oregon: Drift Creek Press.1993). The author is her daughter, born in 1917, who died in 1992. The book is very far from being an accurate account of family histories or events. The biography below is work in progress, completing and correcting the account given in the book by reference to other sources, especially members of the Rundall and Grigsby families including Joan's granddaughter, Faith's daughter, Joan Norris Boothe in San Francisco, her nephew Philip Rundall in Cambridge (U.K.) and Arthur Grigsby's great-nephew Bill Grigsby in Nicaragua.

---
Joan's family and her childhood

Joan was the daughter of the headmaster of St Ninian's School in Moffat (Dumfries), the Rev John William Rundall. She received at birth the names Charlotte Ada Joan Rundall. She was born at 9:30pm on December 19, 1891 at the house called Gowan Bank, Moffat, Dumfriesshire (Scotland), part of the school. Her mother was Constance Ethel Rundall (born Pearse). Her parents had been married on April 10, 1890, in Walton near Bletchley, Buckinghamshire (England).

Joan's father, John William Rundall, was born in 1858 in Dowlaispura, Madras, India, youngest son of General Francis Hornblow Rundall (Dec 22, 1823 - Sep 30, 1908), Royal Engineers, and Fanny Ada Seton Burn, daughter of Captain W. G. Seton Burn, 3rd Light Dragoons. He attended Pembroke College, Cambridge, 1878 – 1882, (scholar, 1878); B.A. 1st class Classical Tripos 1882. Deacon 1883, Priest 1884 (Glasgow and Galloway). He went straight to Scotland and was assistant master, St. Ninian's Preparatory School, Moffat 1882-7. He then became the owner of the school and served as its headmaster 1887 – 1903. He was also curate-in-charge of the episcopalian church at Moffat, 1883-5, assistant priest 1885 – 1903.

Joan's father died of heart disease on 31 July, 1903 in Falmouth, Cornwall. Joan was only 12. Her father had married Constance Ethel Pearse, a daughter of George Wingate Pearse, the rector of Walton, Bucks. George Wingate Pearse had 13 children, he was Rector of Walton for nearly 50 years, from 1850 until 1899; he died 26 December, 1899. After John William Rundall's early death, the Rev. Francis Wingate Pearse, the brother of Joan's mother, came to St. Ninian's as headmaster in 1906, from being a headmaster in Wales. There was a double alliance between the Rundalls and the Pearses; Joan's father, the Rev. John William Rundall, the General's younger son, had married Constance Ethel Pearse in 1890, while her brother the Rev. Francis Wingate Pearse had married Mary Raby Rundall, one of General Rundall's three daughters.
Joan's mother died of cancer of the liver on September 22, 1909, aged 49. Joan's paternal grandfather, General Francis Hornblow Rundall, the father of John William Rundall, had died at St. Ninian's School on September 30, 1908. We may assume that Joan lived at St. Ninians at least until the death of her mother. We are told by Faith Norris that she went to study in a London secretarial college in 1910, living with a clergyman and his wife. In fact, on the day of the 1911 census, Sunday 2 April, 1911, Joan was living in the home of her maternal uncle, the Rev. Hugh Chernocke Pearse, at 7 Manor Mansions, Stanhope Avenue, Barnet, Finchley, London, in the parish of Finchley. She is recorded on the census form as being a worker, a shorthand-typist enrolled at the International Correspondance School. Her uncle, a "clergyman of the established church," is still single and has no recorded place of employment.

She never told her husband and daughter anything about the family history outlined above. Instead she claimed to be the daughter of Janet McLeod, a peasant woman from the Hebrides and gave her father (whose identity she did not conceal) a father who was a European Jew, an immigrant Edinburgh lace-maker named Herman. The reasons for this are not clear.

---
Arthur's parents and his childhood
Joan's future husband, Arthur Grigsby, also had an interesting family. The story of his family and origins is on a separate page.

---



Joan and Arthur: London

Faith Norris claims that Joan Rundall arrived in London in December 1910, dreaming of becoming the first female Scots poet to be published in England in the 20th century, that she completed the secretarial course, and became a secretary in a small publisher's but that her "grandfather" insisted that she go on living in the vicarage until she turned 21, unless she got married. She did not like the vicar or his wife. There were monthly meetings of the ladies of the parish's Altar Guild; one day the vicar's wife was sick so Joan was obliged to serve tea; Arthur Grigsby's mother was a member of the guild and she had brought Arthur with her that day. The two young people talked. She had a strong Scots brogue, dark red hair, big eyes, and loved walking through the city. They both liked H. G. Wells' novels. She visited his mother's flat a week later and was bewitched by the things from Japan. We know that in fact the clergyman in question was her uncle, and not married. There is no way in which we can verify the rest of Faith's story.

Indeed, the closeness that Joan felt for Kate Savell, with her talk of distant lands and other cultures, suggests that she played an important emotional role for Joan. The volume of poems mostly written in Japan, Lanterns by the Lake, is dedicated to "K.S.G" and the first poem is addressed to her: "Gone is the faery land you used to know / Of old romance."


"Five months" later, Arthur and Joan were married, she was twenty, he was twenty-five. Faith says the wedding was in June 1912 in a Unitarian church; the marriage certificate says the wedding was on April 6 1912 in St. Mary's parish church, Finchley. The two witnesses were Arthur's mother and C/L. S. Neill. He had proposed to her during a visit to the British Museum. He loved art, Faith says. No member of their families was invited to the wedding except for Arthur's mother and his sister Ethel. Arthur was living in Finchley, Joan's address is in Highgate.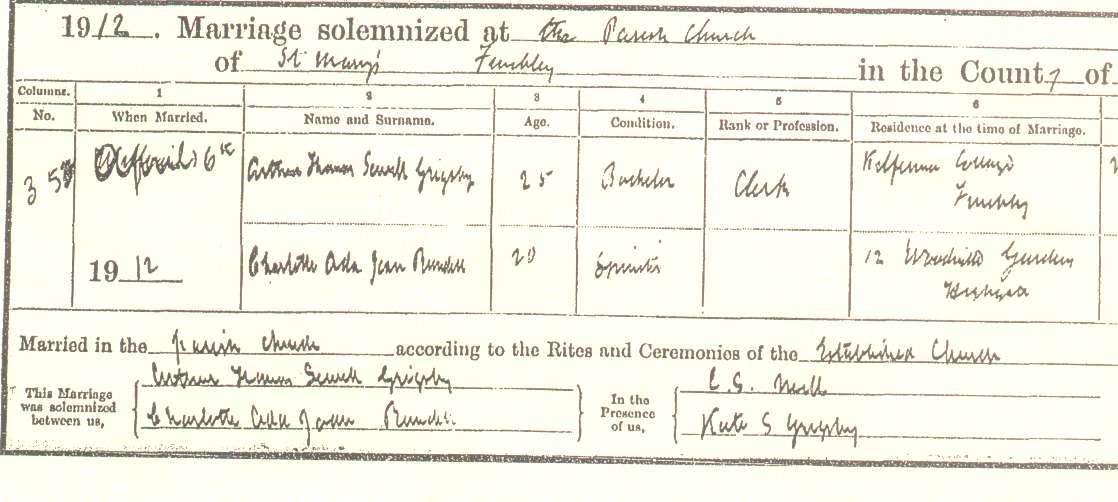 In 1914, they rented a large house near Hampstead Heath, and the war began on August 4, 1914. Arthur had been a member of the Territorial Army, he was called up to serve in the army 2 days later. For almost a year in 1916-7 he was in London recovering from a stomach wound and preparing to join the new Royal Flying Corps. Their daughter was born on August 25, 1917 in Finchley, North London. Her name was registered at birth as Faith Mary but Margaret was added later, probably at her (Catholic) baptism. Arthur, who was at this time a Bombardier in the Royal Horse Artillery, was still recuperating at home, and registered the birth on September 12. Joan's two sisters, Margaret and Eleanor, came to live in her large house around this time; they were constantly quarrelling. On November 3, 1918, Arthur's plane crashed in France, while getting out he tripped and broke his ankle, a bad break badly treated.


Meanwhile, Joan had become a published poet. In the autumn of 1913, two poems were published in a Labour Party magazine. Her first volume, Songs of the Grey Country by Joan Rundall, was published in 1916, full of poems about the Lowlands of Scotland, a subject much less common than the Highlands. Soon after this she went to hear a talk given by a Benedictine monk born in Inverness and decided to become a Catholic, having their baby daughter baptized as well. She wrote to her husband to tell him this news and also wrote, at last, that her father had been a Jew. Arthur did not seem too troubled, and when he returned home in 1919 on crutches after prolonged and not very effective treatment to his ankle, Joan Rundall had just published her second volume of poems, Peatsmoke, with a few poems marked by her newly found Catholic faith. At about the same time, in 1919 or 1920, she published a volume of poems for children, Not Naughty Now, with pictures by the well-known illustrator of children's books, Aubrey Teago.

Canada

To help his damaged ankle recover, a doctor recommended that Arthur should spend some time working in the countryside, perhaps in Canada. In 1921 they decided to go to Saskatchewan, where Arthur's aunt and cousin were living. The summer spent working in the fields was good for Arthur but grim for Joan, in the endless plains, in a tiny town with no culture, no poetry. A former American officer Arthur had met in the hospital in France was living in Winnipeg; he helped Arthur get a job there with an insurance company. After a month, he came down with rheumatic fever, which required 3 months complete rest. Joan at once found a job writing columns for the Winnipeg Free Press, the first of her many journalistic jobs. Arthur recovered, they were busy and happy, and they might have stayed there. But in September 1924 the captain who had once helped Arthur get a job with the P&O line came on a visit. He spoke enthusiastically of Japan, the energy with which they were rebuilding after the 1923 earthquake, and suggested they should move there. He had good contacts, he said. Joan was a person of strong enthusiasms, to which Arthur rarely said no. Japan was one of them. They left for Japan.

Japan

In October 1924, Joan Grigsby and her husband arrived in Japan by boat from Vancouver, driven by poverty and dreams, and he had begun to work as an accountant for Ford Motors. Joan Grigsby had been captivated by the most picturesque aspects of traditional Japan, while living an intense social life as a member of the Yokohama International Club. Her years in Japan were full of activities connected with this club, that was modeled on the kind of social clubs found in India—snobbish and racist. It might have been social anxiety (snobbishness, her daughter calls it, bluntly) and a desire to compensate for her husband's rather pronounced accent that inspired her to claim on joining the club that their family name was Savell-Grigsby. She began to sign herself Joan S. Grigsby, and that is the name on the title pages of both the volumes of poetry she was soon to publish. It should be added, however, that Kate Savell, her mother-in-law, had spent 5 years in Japan just after her marriage, had a flat in London full of beautiful Japanese art and furnishings, and had told Joan fascinating Japanese stories, including that of the Seawater Carrier that later inspired some of her poems. For Joan, coming to Japan was a dream come true, and that also might explain her adoption of her mother-in-law's name.


The club attracted a variety of people and Joan seems to have had a brief affair with a handsome Hungarian 'aristocrat' they had met there. Her daughter believes this affair left her pregnant and that she had recourse to an American doctor who performed an abortion. Joan had already made the acquaintance of Lilian May Miller (1895 - 1943), a poet and artist born in Japan, whose father was an American diplomat, for a while Consul in Seoul. Lilian was a Buddhist, and Joan S. Grigsby now decided that Buddhism brought her greater peace than the Catholic faith that she had been practicing for some ten years past, which of course condemned abortion in the strongest terms. In 1927, Lilian May Miller published a volume of her own poems about Korea and Japan, Grass Blades from A Cinnamon Garden, illustrated with a series of her colored prints. Joan's daughter terms it "unsuccessful," without further explanation. Certainly, Lillian is still remembered as a print-maker, but not as a poet.


Joan's volume of poems inspired by Japan, Lanterns by the Lake, had been accepted for publication in 1928 by Kegan Paul in London but Lilian suggested that it should be printed in Japan then shipped to London, so it was finally only published in the spring of 1929, after the Grigsbys had left Japan. It is illustrated by black and white woodblock prints by Lilian Miller. A small number of its poems are vaguely inspired by translations of Japanese poetry (Joan never learned any Japanese).



Korea

Depression hit Japan around this time and Ford was obliged to lay off many of its staff, including Arthur Grigsby. In January 1929 the Grigsby family moved to Seoul, where Arthur Grigsby became sales manager for Ford, the sales in question being of military vehicles to the Japanese army! Late in 1928, still in Japan, Joan had sent her editor in London an illustrated book about Japan that included pictures of Korea. They seem to have impressed him and he insisted that, since she was moving to Korea, the book should include a few poems about that country, too.


It was winter when they arrived in Seoul, the weather was terrible, the streets were crowded, unpaved, and far from clean, there was nothing immediately appealing about the country, and Joan's first response to Korea seems to have been very negative. Yet she had to write those poems! After a few days in the Choson Hotel they moved into the upper floor of an extraordinary mansion named Dilkusha, situated in a large garden, on a hillside above Seoul. The house had been built in 1923 by Albert 'Bruce' Taylor, owner of at least two gold mines and his wife Mary Taylor. The road leading up to it was a narrow, squalid alley but the garden, made on the hillside above the houses, held an enormous, centuries-old gingko tree, several springs, and a carved stone altar. Joan's poem "Korean Night" is an evocation of what it must have been like to stand in the garden by night: "The sounds of night arise, confused and wild, / Swift throb of drums, a mourner wailing, wailing ; / Men quarrelling ; the sobbing of a child ; / Or women beating clothes with wooden paddles / Or footsteps wandering, restless, weary, wild." Read all the Korean poems.



Joan Grigsby as 'translator' of ancient Korean poetry


Korea was very different from Japan, and Joan Grigsby recognized at once that this was no romantic "faery" land, as she had pretended to herself that Japan was. A number of remarkable people opened the doors of this very different world to Joan. According to Faith Norris, it was mainly Mary Taylor who told her about the Japanese cruelty to Koreans, about the 1919 Independence Movement and its aftermath, and who introduced her to Dr. Underwood, one of the great pioneers of the Protestant mission in Korea, and especially of education. At their first meeting, she says, Dr. Underwood gave Joan a copy of the History of the Korean People by James Scarth Gale, a Presbyterian missionary who had lived in Korea from 1888 until 1927. Gale was a Canadian but had retired to Bath in England. Joan, fascinated by the book, was struck by the many ancient poems it quoted, that Gale had translated. She decided that she would transform his scholarly (though poetic) translations of old Korean poetry into her own style of poetry. Faith says that she wrote to Gale and obtained translations from him; certainly there are a few poems in the Orchid Door that are not to be found among Gale's published translations, but there is at present no certain proof that they were directly in touch. Most of the poems not included in his History can be found in the short-lived monthly Korea Magazine (published by Gale and others 1917-19). See some examples.

Dr. Underwood encouraged her, but said that she would have to learn to speak Korean in order to have a feel for the language, at least, and also ought to discover Korean art. He introduced her to a German Catholic priest, whom Faith Norris identifies simply as "Fr. Eckhardt," probably not realizing that this was a major figure, Fr. André Eckardt (1884 – 1974), who had been in Korea as a member of the German Benedictine mission since 1907. In 1927 if not before he had moved from the mission's main center, in Tŏkwŏn near Wŏnsan in north-eastern Korea, to Seoul where he was teaching in the languages and arts college at the Keijo Imperial University (京城大學校 Kyŏngsung University) which became Seoul National University after Korea became independent. In 1929 he left Korea, very soon after meeting the Grigsbys, and became the founder of Korean Studies in Germany, if not in Europe, having already published a major study of the history of Korean art simultaneously in German and English in 1929, History of Korean Art. From 1954 until his death he held a senior position in the University of Munich.

She also met the Anglicans, Bishop Mark Trollope, Father Hunt and Father Drake, who were living in community next to the Anglican Cathedral. They were all enthusiastic admirers of Korean culture and a student of Fr. Hunt's who spoke good English was engaged to teach Korean to Joan Grigsby. Fr. Hunt loved art and took the whole family to visit temples, but it was above all the scholarly Bishop Trollope, as well as the continuing correspondence with James Gale, that helped Joan develop her project. Bishop Trollope indicated that she might even include some poems by Korean women, that Gale had no interest in. In fact, Dr. Underwood and the Bishop both suggested that she ought really to focus on contemporary Korean writers, whom they admired, whereas Gale had ended his History with the statement that Korean literature was dead. She preferred the beauties of the past, though. Bishop Trollope was to die suddenly on November 6, 1930, only a few days / weeks after the Grigsbys had left Seoul.


Joan Grigsby is listed as a member of the Royal Asiatic Society, Korea Branch, in their Transactions for 1929 and 1930, together with every other person mentioned in the previous paragraphs with the exception of Mary Taylor, who only became a member some years later although her husband had long been a member. Bishop Trollope had been its President for the past 13 years.

It seems clear that Joan was mostly working on more or less literal translations of ancient Korean poetry by Gale (he never published most of the many Korean texts that he translated, they remain in manuscript among his papers in the library of the University of Toronto). She was not, it must be stressed, interested in "accuracy," her versions are radical rewritings. In the summer of 1929, Fr. Hunt, Horace Underwood (the son of Dr. Underwood), Arthur and young Faith Grigsby made a visit to the Diamond Mountains. Seeing the photos the others brought back, she decided that she had missed something and in 1930 she went alone to the Diamond Mountains while her husband and daughter visited Japan and Shanghai. It was a very grueling journey, yet she said it was the most marvelous experience of her life.

In September 1930, Faith says, Joan unexpectedly received a large number of translations of poems by Kisaeng poets, female entertainers, from a woman simply identified in the Introduction to The Orchid Door as "Mrs. C. I. McLaren," who the memoir says was teaching at Ewha Girls' School and was the wife of a missionary. She was in fact Jessie McLaren 1883–1968), the wife of Charles Inglis McLaren (1882-1957), professor of neurology and psychological medicine, Union Christian Medical College, Severance Hospital from 1922 until 1939. Presbyterian missionaries from Australia, both the children of missionaries, the McLarens had been in Korea since 1911 and remained there until the war.

Jessie was not only a teacher, she is celebrated by the National Library of Australia as "teacher, translator, gardener and book collector. She spent 30 years in Korea, where she collected a library of old and rare Korean books. In 1984, her daughter Rachel Human donated 136 of these to the National Library of Australia as the McLaren–Human collection." The cataloguer of the collection, Andrew Gosling, reports that Jessie was ill with a "heart condition" during the 1920s, mostly confined to her home, and that "she used the time to dig deep into Korean history and culture, her daughter recalled. She improved her knowledge of Chinese." Indeed, she completed the translation of the Tonggyong Chapki, a historical miscellany about Kyŏngju (only published in 1986) and is recorded as having translated Confucian texts and Korean poetry.

Until this gift, almost all the poems Joan had worked on were by male scholars, who were favored by Gale, but she decided to omit some of them in favor of these poems by women. In fact there were so many of them that she revised her view of the book and its title. She would call it The Orchid Door, explaining in her preface that "The phrase 'orchid door' is sometimes used as a term to describe the women's quarters." She was in many ways what we would now term a feminist. It had been Jessie McLaren, it seems, who on first meeting Joan soon after her arrival had taken her to see the misery of Korean women washing clothes in an icy stream in winter.

---
Vancouver
By 1930 the Japanese were forcing companies like Ford to lay off their 'Caucasian' employees, accused of being 'spies,' and Arthur Grigsby was offered a new position with Ford in Shanghai. Sensing the looming troubles, they discussed their options and Joan, always romantic, insisted that they should go to live in Vancouver, where they knew nobody, because she remembered how beautiful it had been in 1924. They arrived there in January, 1931, in dreadful weather, in the midst of the Depression, with only a little money. Their plan was to open a curio shop selling beautiful Korean and Japanese objects. Only nobody had any money to buy such things, nor the taste to appreciate them. She had little time for the completion of the manuscript of The Orchid Door.
After some very difficult months, when finding any kind of work was especially difficult for him as an Englishman, the English being widely blamed for the loss of so many Canadian soldiers during the Great War, Arthur Grigsby had been fortunate to get a job sorting out the finances of the Vancouver Art Gallery. He was appointed its business manager on February 1, 1932, and was later appointed its first official curator on November 20, 1942 (VAG homepage events search). Then, late in 1932, Joan was diagnosed with uterine cancer and cancer in the bone of the right leg. Her leg was amputated and she underwent radium treatment. Leaving hospital early in 1933, she got used to doing housework on crutches, then from 1934 ventured on ever longer walks around North Vancouver, on crutches.
Joan Grigsby completed the text of the notes for The Orchid Door as soon as she left the hospital in the spring of 1933 and sent it to the London publishers Kegan Paul, Trench, Trubner & Co., Ltd. It was they who had published a previous volume of her poems, mostly inspired by Japan, Lanterns by the Lake, in 1929. She felt sure that they would take this volume, too, but she had not realized that England had also been hit by the depression. In the autumn the publishers replied, refusing the book. Would she have been comforted to know that at almost exactly the same moment, James Scarth Gale had sent his volume of Yi Kyu-bo translations to the same publisher and received the same reply? (Rutt ed. of Gale's History, p. 83)? By the end of 1934, five English publishers had rejected The Orchid Door. As Richard Rutt says of the Gale translations, their style was excessively antiquated, for both were out of touch with the flow of contemporary poetry. Besides, Korea was not a familiar name, and neither was Joan Grigsby. She was deeply hurt by these rejections, especially the first, which in a letter to her sister she called "a terrible, terrible disappointment," yet she never showed anything of her feelings to her family. Without the help of Lilian Miller, the volume would surely have vanished in flames as her historical novels did.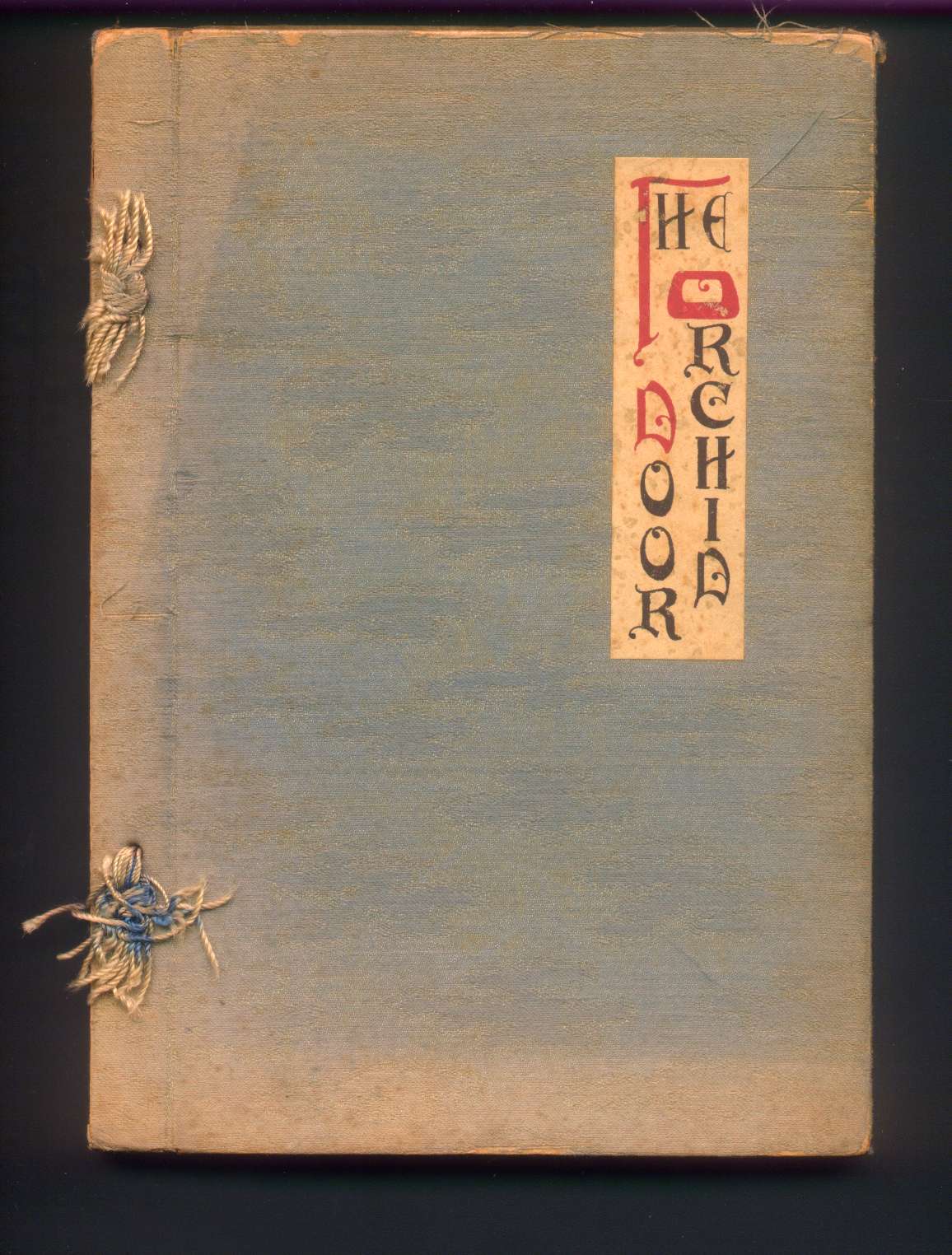 See the Orchid Door page or read its introduction and poems

Learning late in 1934 that no English publisher would not take the book of Korean poems, for which she had again prepared woodblock illustrations, Lilian Miller offered to pay to have it published by the same Kobe firm as had produced Lanterns by the Lake for Kegan Paul. Mary Taylor seems to have paid for copies that were to be sold in Seoul. The use of Korean silk on the cover had been her suggestion, too. Copies of the book reached Vancouver in the autumn of 1935. Faith Norris says she has no idea how many copies were printed or who bought or read them. (She seems not to know that a reprint was made in 1970 by (presumably) Max and Rachel Faerber's Paragon Book Gallery's Paragon Book Reprint Corp.

One last beautiful incident was the visit to Vancouver in 1935 of Joan's sister, Eleanor, who had been living in India for many years, the wife of an Irish botanist in the Indian civil service. The sisters had maintained a regular correspondance. They had not met, Faith says, since 1921, when both were living in the large Hamstead house rented by Joan and Arthur. In that year, (p45) preparing to leave for Canada, Joan had helped Margaret find a job accompanying an elderly lady on her way to join her son in Malaysia; her brother John was then an officer in the army in India and Eleanor originally went to India to act as his housekeeper. Interestingly, Faith says that the two sisters were sent to live with Joan by "her grandfather" who never existed. It is not easy to understand how Arthur Grigsby never heard the true story of his wife's family background at that time, or from Eleanor in 1935, but he clearly did not.
In the days following her amputation, in deep depression, Joan had discovered a new source of courage and hope in a friend's Christian Science faith. This sustained her last years. On April 10, 1937 she died, after several months of often intense pain. Her husband Arthur remarried in 1942 and died 5 years later, in 1947. His second wife was an artist, Marion A. Morham, who had come to Canada from England in 1932. Joan's daughter Faith Grigsby Norris completed her studies at UBC, went on to study at Berkeley, received her Ph.D., then both she and her husband joined the faculty at Oregon State University. Most of Joan Grigsby's papers seem to have remained with her father after her death, then with his widow, and they seem to have vanished without trace when she died.
---