---
An Sonjae / Brother Anthony of Taizé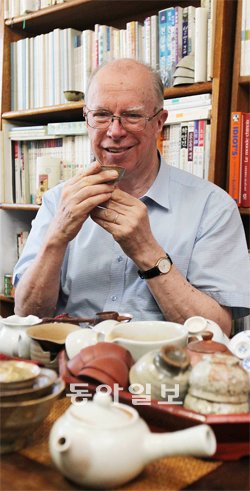 Emeritus Professor, Department of English Language and Literature, Sogang University, Seoul, Korea
Chair Professor, Dankook University, Seoul, Korea

Mapo-gu, Baekbeom-ro 13,
LeMeilleur Town 2, Room 1202
Seoul 04101,
Republic of Korea

Tel. 010-****-8301

email : ansonjae(at)sogang.ac.kr or gmail.com (replace (at) by @ )



---

Born in Truro (Cornwall, U. K.) in 1942. A survey of my family history begins here.


Studied Medieval and Modern Languages at The Queen's College, in the University of Oxford, from 1960 until 1969.

Joined the Community of Taizé (France) in 1969.
Taizé is the name of a small village not far from Macon and Cluny in eastern France. Since 1940 it has been home to an ecumenical monastic community of brothers known as the Community of Taize. Taizé has become well-known in recent decades for hosting meetings where young adults from all over the world pray and share together. The Community's main concern is to promote reconciliation and trust. Here is a glimpse of Taize.
Made Life Commitment in the Community at Easter 1974. Lived in the Philippines 1977-80.

Came to Korea in May 1980, invited by Cardinal Kim, Catholic Archbishop of Seoul. Lives in Seoul with other Brothers from Taizé.

Began to teach in Sogang University in September 1980. In 1985 became a Professor in the Department of English Language and Literature, teaching medieval and renaissance English literature and culture. Served as Department Chairman 1992 - 1994. Has written a number of books and articles about English literature, and translated works of modern Korean literature. President of the Medieval and Early Modern English Studies Association of Korea 1998-2000. Was in charge of the British & American Cultures Major from July 2000, and Chair of the English Department from May 2001 until July 2003.

Naturalized as a Korean citizen in 1994 with the Korean name An Sonjae.

While I was translating a novel by Ko Un based on the last part of the Buddhist Avatamsaka Sutra, the Garland Sutra, I came across the story of Sudhana (called Sonjae in Korean), a child living in India at the time of the historical Buddha Shakyamuni. Sonjae travels all over India in search of enlightening wisdom. He meets a lot of different people, 53 in all, from each of whom he learns something that brings him closer to his goal. Yet even after his journey is complete, he is still only a child, life remains to be lived. That Buddhist 'Pilgrim's Progress' is the origin of my Korean name, which is at the same time an adaptation of 'Anthony'.

Began to translate modern Korean literature in 1988, beginning with poems by Ku Sang. Won the Korea Times Translation Award, the Republic of Korea Literary Award (Translation), the Daesan Award for Translation, the Korea PEN Translation Prize. By the end of 2014 he had published over 30 volumes, mostly of Korean poetry. The full list of titles is here.

Was named Emeritus Professor in the English Department of Sogang University on reaching retirement on March 1, 2007. He taught at least 1 course each semester until June 2014.

In October 2008 he was awarded the Ok-gwan (jade crown) Order of Merit for Culture (Munhwa Hunjang) by the Korean government.

In September 2010 he was appointed a Chair-Professor at Dankook University with special responsibilities in the International Creative Writing Center.

In January 2011 he became President of the Royal Asiatic Society Korea Branch.

In December 2015 he was awarded an honorary MBE by HM Queen Elizabeth during a ceremony in the Seoul British Embassy.

As a translator of Korean poetry he has recently accompanied Korean poets on a number of journeys to give readings, including:

In November 2012 with Ko Un at the Aldeburgh Poetry Festival (U.K.) (followed by readings in Oxford, Cambridge, London)
In October 2014 with Ko Un at the University of Hawai'i
In July 2015 with Ko Un at the Ledbury Poetry Festival (U.K.) (followed by a reading at the Korean Cultural Center in London )
In February 2016 with the poets Lee Si-Young, Kim Soo-Bok, Kim Seung-Hee for readings at the University of Hawai'i, UC Berkeley and Stanford
In September 2016 with Ko Un in Washington, with readings at the Library of Congress (Sep 19) and George Washington University (Sept 20)
In February 2017 attended a translation workshop at the University of Chicago
In April 2017 gave a lecture on Korean history at the Ursuline University, Kaoshiung, Taiwan.
In October 2017 gave a reading with the Korean poet Jeong Ho-Seung in the Korean Cultural Center, Los Angeles.

He has also given presentations on the Korean Way of Tea with Master Hyoam at Penn State University (2013, 2016), at the University of Hawai'i (2014), in the London Korean Cultural Centre (2015),

He gave the Yun Bosun Memorial Lecture in the University of Edinburgh in August 2016.

He continued to translate, publish, and give special lectures by Zoom during the Pandemic
At the end of 2020 he ceased to be President of RAS Korea and was named its first President Emeritus.

In November 2021 he received the Dosan Award for Education for his work as RAS President.

---
In late 2006, various interviews and events marked his retirement:
An exhibition in Sogang Library, in late November, of the 26 or so books published up to then with a small opening party.
An article in Korean in the Choson Ilbo
An interview in Korean with KBS Radio
An interview in Korean with Seoul Sinmun

In July 2008 the Gyeonghyang Sinmun published a long interview (in Korean)
In August 2008 the Chungang Ilbo published an article about Taize in Seoul (in Korean)
In October 2008 the Business Herald published a long interview (in Korean)
In March 2009 the Seoul Sinmun published another article (in Korean)
In September 2009 the Chungang Ilbo published an interview about the spirituality of tea (in Korean)
In September 21012 the Dong-a Ilbo published an interview about the RASKB, tea etc (in Korean)

---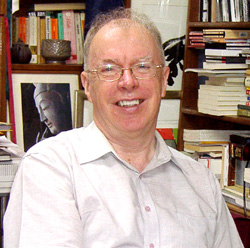 ---