My Family Origins
| | |
| --- | --- |
| St Clements Church near Truro, where I was christened on February 15, 1942, and given the names Anthony Graham. | With my mother in 1946/7 when Dady was in Africa |

Who is Anthony Graham Teague / Brother Anthony of Taizé / An Seon Jae ?
Where did I come from?
The Teague, Dunn, Green & Greswell families


Kea, Feock, Baldhu, Grampound, Cookham
Now nearing my 80th year, it is time to bring together whatever information I can find about my many ancestors. I am an only child, childless, so that the genes I inherited from Greens and Teagues will not be part of any future generations. But my (only) Teague cousin Andrew has had 4 children and is now a grandfather, while my Green cousins are several, with grandchildren. This is for them.


Two maps containing almost all the Cornish villages named in my family's history.
| | |
| --- | --- |
| This map shows Mylor, Falmouth, Feock, Penelewey, Kea, Baldhu, Devoran and Trelissick, and Truro with 'Kenwyn' half visible at the top. | This map shows Grampound, Grampound Road, and St. Stephen, as well as Feock and Mylor.. |

First, click to see a few family photos.


Four generations of Teagues descend from Ralph Teague of Probus who married Dinah Harris in Probus on 12 May, 1706. Then come

My great-great-great-grandparents
1) John Teague (born c1803 ) & Jane Green (born c1802) of Grampound (parents of Henry Teague)
2) John Teague (born c1802) & Emma (born c1803) (parents of Ann Teague)
3) Perhaps William Dunn and Grace Hitchens (born 1778) of Mylor (parents of John Dunn)
3-16: not known)
My great-great-grandparents:
1) Henry Teague (c1830 - 1916) & Ann Teague (c1828 - 1877)
2) James Stephens (c1807- 1871) & Betsey (c1815 - 1870)
3) John Dunn (c1815 - 1888) & Mary Ann Bourne (c1820 - 1903)
4) William Jenkin (c1815 - 1887) & Harriet (c1822 - 1896)
5) John Green (c1801 - 1868) & Mary (c1801 - 1872)
6) James Hichins (c1801 - 1886) & Jane (c1802 - 1876)
7) Thomas Greswell ("Grisold" c1811 - 1874) & Elizabeth (c1811 - 1882)
8) John Tubb (c1810 - 1887) & Sarah (c1805)
My paternal great-grand parents





John Henry Teague (1853 - 1928) & Elizabeth (Stephens) Teague (c1856 - 1919)




See photos of their graves here.



William Bennett Dunn (July 8, 1859 - 1941) & Mary Elizabeth (Jenkin) Dunn (1859 - 1936)


My maternal great-grand parents
John Green (c1829 - 1906) & Mary J. Hitchens (c1833 - 1903)
Thomas Greswell (c1839 - 1909) & Ann Tubb (c1840 - 1916)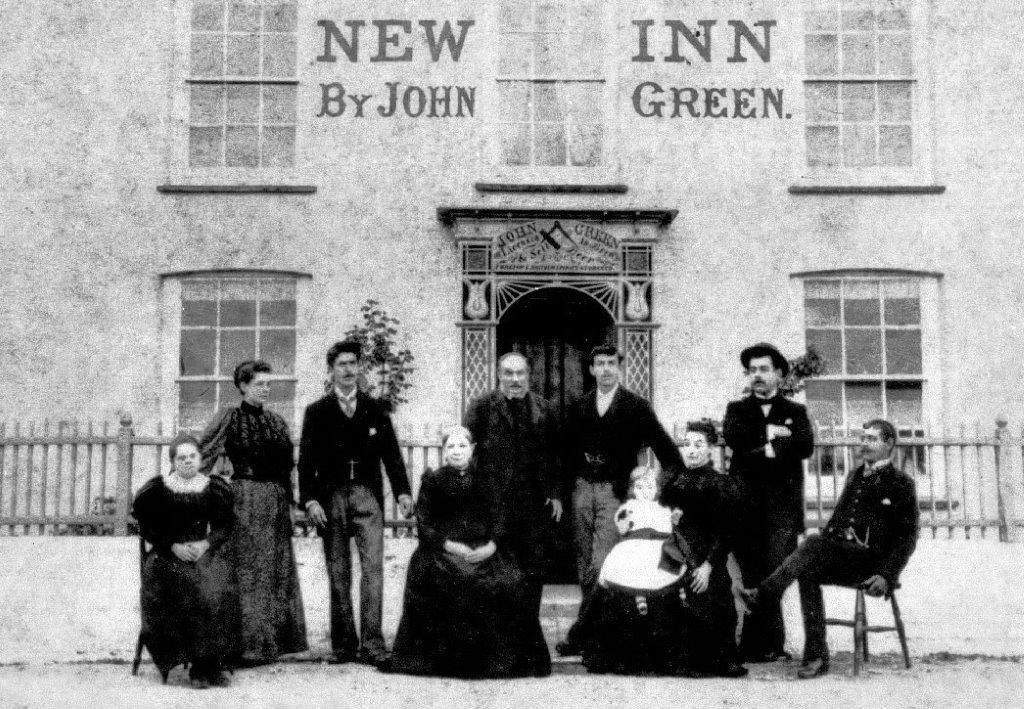 From left to right, sitting: Mabel Green, Mary Jane Green (Great-grand-mother), Henrietta (Hettie) Hodge holding her baby Edgar Hodge, Edward Green
From left to right, standing: Rosamund Green, John Green, John Green (Great-grand-father), James Green (my grandfather), William Hodge





My grandparents

Fred Teague (1885 - 1958) & A. Frances Ellen Dunn (1884 - 1974)

James Green (1874 - 1950) & Louisa Greswell (1875 - 1960)

My parents

Thomas Leslie Teague (February 2, 1914 – March 26, 1985)

Nan Albina Green (July 24, 1911 – February 3, 1991)

My ancestors were all extremely modest, in social terms, and they were almost all Cornish. Grampound and Feock are the places of my earliest memories of family, not surprisingly. We lived in Truro, mid-way between the two villages.



When my father was a child, he and Dudley his elder brother would be sent from Plymouth to spend time with their parents' families in the village of Grampound. Dudley, being older, was sent to the Teagues, who were Methodists, frowned on levity, and would not allow him to read anything but the Bible on Sundays. Leslie went to the Dunns, where life was more relaxed and they would spend evenings playing rummy (a card game) for matches if not for money. I in turn occasionally went to stay in Grampound as a child, always with Ruby Dunn in the Dunn house with its grocery shop, everything totally unchanged since the 1930s or before.The very dim light-bulb over the stairs was a carbon-filament bulb dating from the 1920s. I used to think I could hear the ghost of my Great-grandfather walking up the stairs in the night, I was a nervous child. It was in Grampound that I gained a feel for my family's history, since so many older members of both sides of my father's family were still living there.

My mother grew up in a house belonging to the estate of Killiow in Kea, belonging to the Daubuz family, but my mother's father's family had its roots in the village of Feock. In actual fact my father's family also had links with Kea, having lived long in Baldhu, which is also part of Kea. My great-aunt Ruby Dunn once drove me past the house where she and several of her siblings were born and where they had lived, and we visited a family grave in Baldhu churchyard. I was also told by Ruby that there were family tombs inside Mylor Church, but it was only in 2014 that I realized that my great-great-grandfather John Dunn was born there.

John Dunn married an English woman from Kent and their son William Bennett Dunn married Mary Elizabeth Jenkin who was born in Baldhu in Kea, of which Feock was part; one of their daughters was my father's mother. The Teagues, his father's family, were firmly rooted in Grampound.
My mother's father was born in Feock, a few miles away; he married an English woman from Cookham (Berkshire) and my mother was born and grew up in Kea. Thus my father's mother and my mother's father had deep roots in the same small part of Cornwall around Feock and Kea.



My parents, Nan Green and Leslie Teague, met in their workplace, since he was a telephone linesman (engineer) and she was a telephone operator, both based in Truro. They married at Kea church on October 1, 1938 and moved into a newly built house, midway between Kea and Grampound, one might say, in Upland Crescent, Truro. They paid a monthly rent for that house until they died, Les of liver cirrhosis on March 26, 1985, Nan in an accident, run over by a car as she was crossing the road after attending evensong in St. Paul's church in Tregolls Road, Truro, on a freezing evening, February 3, 1991.



The only really momentous event in their marriage was when Les, rather unhappy and at a loss in life, left England alone for a Post Office posting to Nyasaland (now Malawi) in 1946, leaving us in Truro. Within a year he had to come back, suffering from malaria. His parents had by then moved to Bournemouth so "Pop" (Leslie's father) drove us when we went to meet him off the ship at Southampton. After that his Post Offices promotions up to inspector rank never involved moving away from Truro. He suffered from ulcers caused by stress and general disappointment and underwent surgery a number of times.


I was born in Truro Nursing Home in Strangways Terrace, at the top of Lemon Street, late in the evening of January 3, 1942, delivered by Dr. Orchard with forceps after a difficult labour. Lazy from the start!



I live in Korea. I am a Korean citizen. I have a Korean name. I am the only Cornish Korean.





---
Full listings of all the Cornish census results from 1841 until 1891 are available at this site. Thank you!

Feock records can be found at Genuki, including census to 1891. Or at FamilySearch



The Cornish church records are freely available through the OPC database. Wonderful!.



The Free BMD Index is a priceless tool for official records of births, marriages and deaths


FindMyPast is also a valuable resource, especially for older church records



The following site no longer exists for the UK (still active for USA) but it can be retrieved as it was in 2015 via the Wayback Machine
For the Teagues, the Teague Family Resource Centre was useful,
especially the list of descendants of Ralph Teague of Probus although some of the individual pages are inaccurate.
also the list of Teague marriages and the Teague Baptisms and Burials in Creed Parish register up to a certain date