General / Research / Texts / Shakespeare / British Authors & Topics / Europe: Literature, Art etc.
Last update: October 5, 2004

Renaissance Resources Online
General Resources

Luminarium offers marvellous pages of texts by and information about British writers of the Middle Ages, the Renaissance and the 17th Century. In addition, it contains vast lists of links to cultural aspects of the Middle Ages, the Renaissance and the 17th century, including sections on buildings, costume, art, society, history, and a lot of music to listen to. It also offer bibliographies of related books and articles.

Try exploring The Voice of the Shuttle, where you will find a wonderful set of links to British Renaissance resources among many others.

Jack Lynch's Renaissance resources page...

---

Research Resources

For people interested in undertaking research in Reformation and Renaissance topics, the CRRS's Bookmarks at the University of Toronto's Centre for Reformation and Renaissance Studies are invaluable.

For intellectual history, especially philosophy but almost everything else as well, see the University of Munich's well organized and closely annotated Internetography of Renaissance Intellectual History, maintained by Dr. Heinrich C. Kuhn.

Rhetoric was a vital aspect of Renaissance writing but it is difficult because of the very technical vocabulary. Dr. Gideon Burton of Brigham Young University has made a guide to classical and renaissance rhetoric available online, The Forest of Rhetoric, which includes a list of the technical terms.

Medieval and Renaissance Web maintained by Thomas Izbicki is designed to provide access to scholarly resources in all aspects of the Western Middle Ages and the Renaissance. It is part of the WESSWEB's links to resources in European Studies - Regional and Historical Resources.

The CERES site at the University of Cambridge is also an extremely important point of reference for all aspects of Renaissance Studies.

The Renaissance Society of America has an informative set of pages.

Or consult Renaissance Forum at Hull.

---

Online Texts

For e-texts, you should consult the list at Early Modern Literary Studies in the University of Alberta. At the same site there is an incomparable list of other renaissance resources available online.

Early English Texts Online allows you to view images of over 100 early books including Spenser's Faerie Queene (1590), Paradise Lost, Herrick, Vaughan... Well worth exploring.

You may also go directly to one well-furnished site, such as the library of e-texts at the University of Toronto or the Oxford University Text Archive.

The huge collection of electronic titles at the University of Virginia is an essential resource, but it includes many that are not available to the outside world (marked with a * in the lists), and a search of their Index of authors produces a lengthy alphabetical list with no distinction between Renaissance and contemporary. They have a separate medieval section.

The other very large project worth exploring to find useful texts is Project Gutenberg.

The Perseus Project at Tufts University is a very important resource for Classical, Medieval, and Renaissance studies.

The British Library, with Keio Univeristy (Japan), has put online complete images of the 2 complete Gutenberg Bibles and other related early printed material. The Library of Congress is now doing the same with its Gutenberg Bible.

Complete digital images of dozens of early printed books are freely available in Early English Books Online including the complete 1532 "Works of Geoffrey Chaucer". Also the 1550 Crowley edition of Piers Plowman. The full lists of what is available can be found here though you have to register (free) and get the necessary plugin (free).

Try the new Montpellier Early Modern English Documents MEMED for some interesting texts.

ERIC (English Renaissance in Context) offers online tutorials about various aspects of the cultural context for Shakespeare and other writers.

The Internet Public Library catalogue includes a long list of mainly earlier dramas online (excluding Shakespeare).

The Elizabethan Authors Home Page offers texts of a significant number of hard-to-find plays, poems, fiction, and criticism, that are very valuable. It includes materials related to the "Oxfordian" view of Shakespearean authorship.
---

Go to my page of Shakespeare Links
---

British Authors and Other Resources

The text of More's Utopia on my own home page.

Text and woodcuts from various editions of Foxe's Book of Martyrs.

The quite remarkable Edmund Spenser homepage at the University of Cambridge includes links to the much more inclusive project organized by Richard Bear, known as Renascence Editions, a very rich resource in itself and with yet another large list of fascinating resources at the end of its main page.

Sir Philip Sidney: Astrophel and Stella (at the University of Oregon); other works at Augsburg.

The Complete Works of Christopher Marlowe (within the Perseus Project)

A siteat the University of Arizona devoted to Aemilia Lanyer including a text of Salve Deus Rex Judaeorum

The complete text of Ben Jonson's poems The Forest on my home page.

The online Ben Jonson Journal.

John Donne at Toronto and at Augsburg. The Donne Variorum Project home page.

MetaphysicalPoets.org lists links to resources covering all the main "Metaphysical Poets" thanks to Gregory Kneidel.

The Biographical Index to the Elizabethan Theater made by David J Kathman gives a list of all people known to have been involved with theater in England between 1558 and 1642.

Drew Whitehead has begun a project to put online the plays of the Beaumont and Fletcher Canon under the title Twilight Pictures.

Almost all of Middleton's plays put online by Chris Cleary.

Bacon's Advancement of Learning at Bremen.

The complete text of Sir Thomas Browne's Urn-burial (Hydriotaphia) and Religio Medici, thanks to Richard Bear. Better still, the full Sir Thomas Browne site, with some other very unusual texts, maintained at the University of Chicago by James Eason.

The Richard Lovelace Page for pleasure.

Milton's Paradise Lost (12-book version) or see the Milton-l home page

The complete text of the Anglican Book of Common Prayer (1662)

Penn State University Library offers an online collection of nine English emblem books from the 16-18th centuries. The collection includes scanned images of, and bibliographic information for each book.

View some of John Speed's Maps of Britain, thanks to Professor Maryanne Cline Horowitz.

In the US, Renaissance Fairs are very popular and there is a site designed to help prepare them. It includes a guide to the way English was spoken in the Renaissance.

You may even like to make A tour of Restoration London

---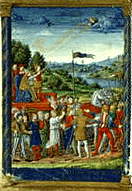 European Renaissance Literature Topics,

The Galileo Project at Rice University.

Early Modern French Literature: Hot 16th-century links created by David A. Gatwood

Neoclassical Nirvana: French Neoclassical Literature links by David A. Gatwood

The Census of Italian 16th Century Editions EDIT 16 aims at documenting Italian books printed during the 16th century and at reviewing the countrywide heritage. It includes editions printed in Italy between 1501 and 1600, in any language, and editions printed abroad in Italian.

Petrarch's Canzoniere in Italian; and again, the Canzoniere with flowers. Extracts in English from his letters. The best overall set of Petrarch links includes a page of general links and another one for the works. A fine exhibition at the University of Pennsylvania Library celebrates the 700th anniversary of Petrarch's birth.

Brown University's Decameron Web includes John Florio's1620 translation of the Decameron.

A collection of Spanish sonnets with English translations.

A poem by St. John of the Cross translated by Leonard Cotterell. See the Ethereal Library for more by St. John of the Cross. Works by him and St Teresa of Avila, as well as other "Catholic Classics" are available online translated into English.
---

Art and Visual resources

See the Renaissance sections in my Arts page; also the renaissance sections in sites listed among my General Art Resources. Especially Mary Ann Sullivan's site for renaissance buildings and sculpture.

The Vatican Museum site is a good place to spend a quiet evening browsing treasures, many from the Renaissance. The same site (Christus Rex) also gives you access to the Sistine Chapel and the paintings of Giotto.

You can also spend hours visiting the Library of Congress Exhibition Rome Reborn about Rome in the Renaissance.

Renaissance Dante in Print (1472-1629): A wonderful exhibition of Renaissance editions of Dante, with images of pages from each that give a good impression of Renaissance book production.

A very good exhibition about Writing On Hands : Memory and Knowledge in Early Modern Europe.

The Christopher Columbus links page in the Discoverers' Web.

The Artcyclopedia has links to works by Leonardo da Vinci, Michelangelo.

Or there are always the Harcourt Brace pages on Renaissance and Baroque Art to explore, to say nothing of the Luminarium page mentioned above.

The Webmuseum gives you very rapid access to thousands of paintings from the Middle Ages until today.

You will find quite a lot of Renaissance Music on the Classical MIDI Archive but nothing can equal the special collection of keyboard works by Byrd by John Sankey.

The University of Mannheim (Germany) has put some of its very old books and some manuscripts online. The site is all in German...

---
Go to Classical, Medieval or 18th,19th & 20th Century Literature links. Go Home.