Page last revised March 5, 2005.
Classics and the Early Christian Church
Classics (General)
Carl W. Conrad's listings of Classics Resources, of vast size, commends highly Maria Pantelia's Electronic Resources for Classicists: The Second Generation and The Classics and Mediterranean Archaeology Home Page;
A magnificent guide to Classics and Philosophy resources on the Internet has been established by Blake Landor at the University of Florida Smathers Libraries, where there is a very intensive collection of resources in every discipline.
The Perseus Project at Tufts University is a very important resource for Classical, as well as Medieval, and Renaissance studies.
The Library of Congress offers a large collection of classics-realted sites in its Greek and Latin Classics Fields.
Another very useful resource is entitled The Classics Page at Ad Fontes Academy, with many Clasics links and a Latin Library of (not always very precise) on-line texts.
Bibliotheca Augustana by Ulrich Harsch has texts from all periods in a variety of languages including Latin and Greek.
The Andy Holt Virtual Library includes a set of links to journals, bulletins and newsletters whose focus is Prehistoric through late Classical cultures and civilizations.
Want to see how the alphabets evolved, with some animations? This University of Maryland site is worth exploring.
What do you want to know today? is a remarkable page at the University of Kentucky allowing searches of a variety of important Classics-related and other sites. The Kentucky Classics home page is also worth a visit.
One other major site, that covers the Near East, India, Egypt, China, Greece, Rome, Islam, and Europe is Exploring World Cultures at the University of Evansville.
There are very valuable modules on classical topics, and quotations from classical writings in the World Cultures site at Washington State University. The Mining Company allows you to survey a good number of resources for ancient philosophy.
The Internet Classics Archive gives access to the translated texts of over 400 classical works.
Enjoy the Classics through David Meadows' monumental The Atrium pages.
Or try the Ancient World Web.
The University of Cambridge also offers a fine list of resources.
The University of Minnesota's E-Museum may be of interest.

---
Mythology
Christopher B. Siren's Myths and Legends provides commented links to a vast selection of materials, both general and related to particular regions all over the world. There is almost no need for any other listing here, since he has it all, even listing items whose link has died. Hittite mythology can be found here.
Or try the Ancient World Web.
You can spend hours reading the interactive version of Bulfinch's Mythology.
Or you may want to use the Encyclopedia Mythica. which is also very full of useful information.

---
Egypt
Tour Egypt looks like a tourism site but hidden inside are considerable resources about every aspect of the country's culture, ancient and modern, and especially its ancient mythology page with long lists of descriptions of gods. For this latter topic, the relevant pages of the Encyclopedia Mythica are also good.
This list of gods from the University of Minnesota's E-Museum may help but this one from Absolute Egyptology has pictures too, and The Ancient Egypt site is perhaps as comprehensive as many will need.
For a gentle opening, try The Pharaohs Network.
There are 137 photos of items from the tomb of Tutankhamen in the Cairo Museum's home pages.
---
Greece
The Last Days of Socrates Home Page is a beautifully executed project but it cannot be compared with Bernard Suzanne's Plato and his Dialogues which is on the way to becoming The Plato resource.
The Chicago Homer gives the Greek text and translations in English and German with much more besides.
There is a very valuable short survey of Greek tragedy at Cambridge University, and also an outline of the impact Greek tragedy has had on Western thought, as part of a larger list of links and resources.
The House of Ptolemy web site concentrates on the Ptolemies and their world, from 331 - 30 BCE. However, since the histories of Greek rule and subsequent Roman rule overlap (and do so again later with Byzantine rule) this site includes Roman rule in Egypt, and the Byzantine rule that followed.
It is not likely that many will be interested in Byzantine numismatics (coins) but here is one person who certianly is, and who shares his knowledge.

---
Rome
De Imperatoribus Romanis: An Online Encyclopedia of Roman Emperors until 1453, one of the great Internet sites.
Roman Internet Resources within Washington State University's World Civilisations pages, leads you straight to The Rome Project and many other sites.
A very fine, large site, with a lot of books, texts, photos and guided tours : LacusCurtius: Into the Roman World by Bill Thayer. It's online texts include Isidore of Seville's Etymologies in Latin, Pliny's Natural History, as well as Histories by Cassio Dio and Polybius.
If you think you have seen most sites related to Ancient Rome, take a look at this Teachers Net list.
The Scholiast site by Peter Ravn Rasmussen, a history student at the University of Copenhagen, in Denmark, includes links to Archeology and Antiquity to 500 A.D.
Virgil-org is a site by David Wilson-Okamura offering links to Virgil and his age.
There is a very good site for Texts in Latin (mainly with English Translations) and other aspects of Things Roman at the Forum Romanum.
Art History offers access to many resources illustrating Classical art.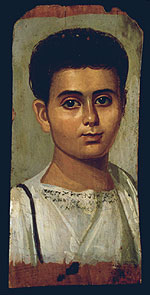 The Metropolitan Museum of Art in New York has namy remarkable special exhibitions. Early in 2000 it welcomed an exhibition of Egyptian Mummy Portraits from Roman Times; some of these are quite remarkable, like this beautiful portrait of an adolescent boy, Eutyches.



---
The Early Christian Church
A very full selection of translations of Early Christian texts is available from New Advent's Fathers of the Church, a site which is similar to Wheaton College's Christian Classics Ethereal Library.
Catholic First includes texts from the Apostolic (Ante-Nicene) Fathers.
Equally valuable in its own area is the Guide to Early Church Documents among the many important Christian resources of the Institute for Christian Leadership.
Figures such as Boethius and Saint Augustine of Hippo are very well covered in James J. O'Donnell's pages about classical and medieval Latin writers. This scholar's great edition of Saint Augustine's Confessions (in Latin, with copious notes and an Introduction) is now available online.
The Latin text of Boethius' Consolation of Philosophy with notes, commentary, and translation, prepared by Joost W.M. Kok. But better still is the Boethius site with Latin, English translation, commentary and concordance available together.
Exemplary for this kind of resource, are the Byzantine and Medieval Web Links.
It is possible to search the Vulgate, with the Glossa Ordinaria, the Historia Scholastica of Peter Comestor, St. Augustine's De Civitate Dei, and Carmina Burana, thanks to Steve Killings.

I have downloaded from various sites some long files that may take too long to download for many users in Korea. These texts are mainly intended for the students in my Classical and Biblical Backgrounds to English Literature courses each year.
Homer: The Iliad (Translated by Samuel Butler)
An extract from Book 24, telling the visit of Priam to Achilles
Homer: The Odyssey (Translated by Samuel Butler)
An extract from Book 9, telling the encounter with th Cyclops Polyphemus
Virgil: The Aeneid (Translated by John Dryden)
Aeschylus: Agamemnon
Sophocles:Oedipus; Antigone
Aristophanes: Birds, Lysistrata
Plato: The Symposium (Translated by Benjamin Jowett)
Socrates quotes Diotima's definition of Love
A selection of passages from Ovid's Metamorphoses :
Origins of the Cosmos
The Golden Age
The First Sin
The Flood
and various famous stories :
Daphne
Pyramus & Thisbe
Pygmalion
Philemon & Baucis
Orpheus & Eurydice
Daedalus & Icarus
Echo & Narcissus
The last part of Plutarch's Life of Julius Caesar