The Teague family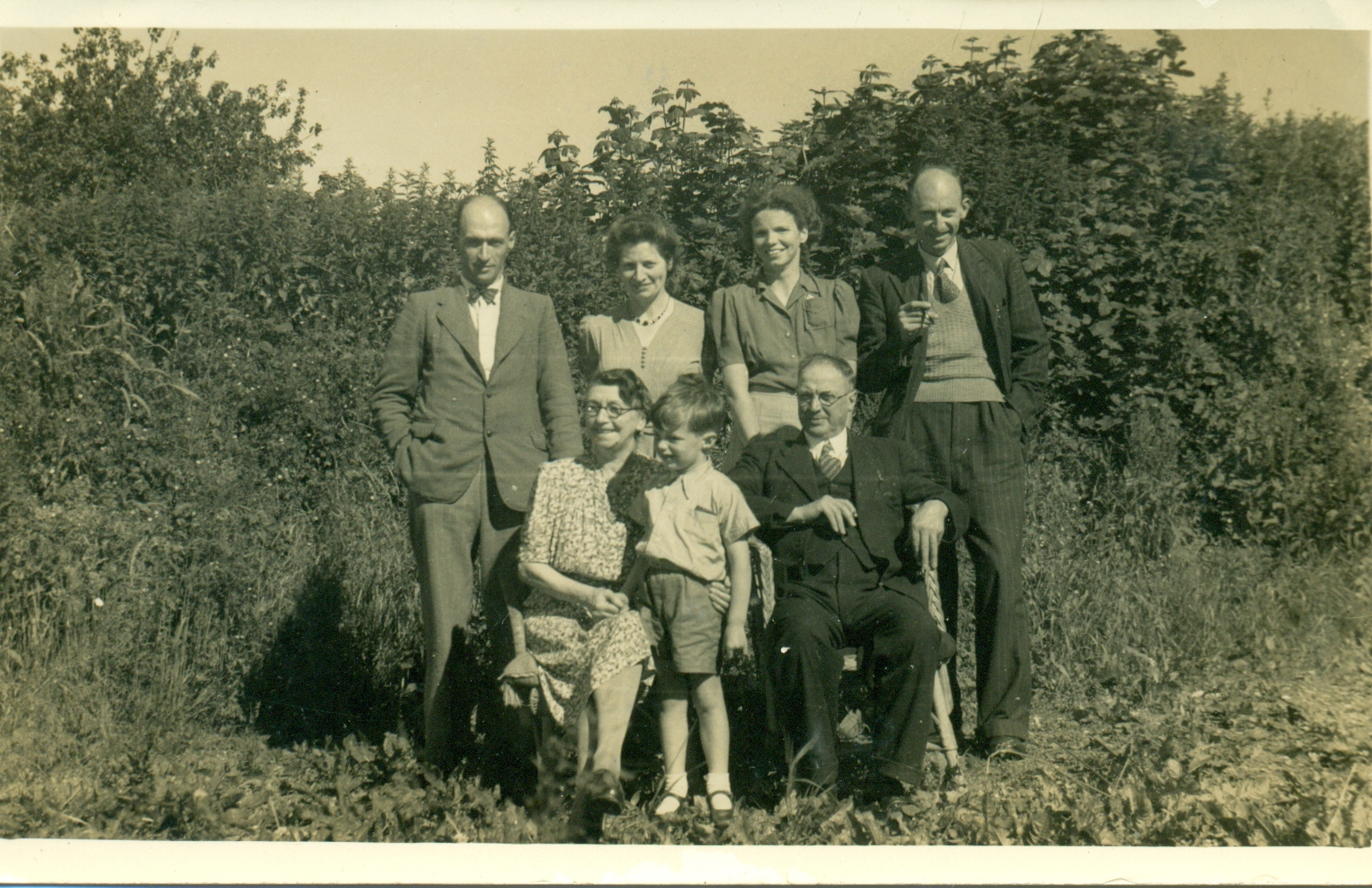 The complete Teagues in 1946 in the garden of the Garland Ox, Bodmin
L/R back Dudley, Jean, Nan, Les,
Ellen (Gran), Anthony (me), Fred ('Pop')


The 1891 Census for Grampound lists the paternal side of my father's family, long-time residents of Grampound, who were presumably living near the foot of the hill on the other side of the Main Street to the church and village hall, opposite what is now (and probably was then) the Dolphin Inn, where Eva still lived when I was a child.


John H(enry) Teague, 38 (born, then, c1853), Blacksmith, Employer, born in Grampound Cornwall,
Elizabeth Teague, Wife, 37 (born c1854), born in St Stephen in Brannel Cornwall,
Thomas Teague, Son, 17, Blacksmith, Employed, born in Grampound Cornwall,
Helena E(vangeline / Eva) Teague, Daughter, 16, born in Grampound Cornwall
Ethel A(nnie) Teague, Daughter, 10, Scholar, born in Grampound Cornwall,
Fred Teague, Son, 5, Scholar, born in Grampound Cornwall, in 1886, my grandfather
Joseph S(tephens) Teague, Son, 3, born in Grampound Cornwall,

[three children were born who did not survive:
James Henry Teague (born 1877)
Frederick George Teague (born 1879)
Emmeline Teague (born 1884)]

To these must be added (from the 1901 Census, where the full name of the father, John Henry Teague is given) Harold John Perdeux Teague (7, his birth registered in June 1893), the traditional name being apparently spelled Perdeaux in the 1911 Census, by which time only he and Ethel were living with their parents, and John Henry was listed as "Dairy Man."
---
How far back can we go in tracing the Teagues from whom I am descended (among the many other Teagues living in Grampound and Probus)?



This page traces my direct family line. Another page traces the descent of every Teague who lived in Grampound in the 19th century



There is a valuable online resource The Teague Family Resource Center and from that most of the following information comes, until we start to have Census records from 1841.





Ralph Teague of Probus married Dinah Harris at Probus on 12 May, 1706.


Children (baptised at Probus)
Richard bap 1706
Frances bap 1708
Elizabeth bap 1709, died 1710
William bap 1711
Benjeman bap 1713, died 1715
Benjamen bap 1716



William Teague & Joan Harris
William was baptised in Probus in 1711, the son of Ralph Teague & Dinah (Harris). He married Jone Harris at Creed 15 April 1734. Jone/Joan died in 1785 and was buried in Probus.


Children
Isabel bap 1735 in Ladock
Ralph bap 1737 in Probus
William bap 1739 in Ladock
John bap 1741 in Probus
Mary bap 1746 in Probus
Ann bap 1746 in Probus, married Jonathan Pappin 12 April 1769
John bap 1753 in Probus





William Teague and Elizabeth Lorey
William married: Elizabeth Lorey at Creed on 27 May 1760. William was buried at Creed February 5 1799. Elizabeth was buried at Creed June 10 1810.
Children:
Elizabeth Teague b 1761. Married Walter Bilkey 1786
John Teague baptised at Creed June 20 1762 died in Grampound 25 February 1853
Grace Teague b 1763. Married Luke Williams
Ann Teague b 1765
Jane Teague 1769-1837
Catherine Teague b 1771. Married Matthew Rickard 1802
William Teague b 1775


John Teague & Ann Pardew/Pardoe


[The linked Teague Resources page is incorrect in many respects, what follows is mostly based on the Creed parish records etc]

My great-great-great-great grandfather John Teague (born 1762) married Ann Pardew (born 1773, died 18 March 1848) at Creed church on November 27 1792. The use of "Pardew" as a given name in generations after this confirms that this is the line of descent of my family. Ann Pardew was baptised in Creed church on 7 April 1773, the daughter of James and Ann Pardew.



A complication is caused because another John Teague married Ann Bray on 2 Jan 1796 at Creed. There were therefore 2 couples with the same name "John and Ann Teague" and they both gave the name 'John" to sons born in 1802 and 1803 respectively. How to distinguish the two sons? The Creed baptismal records show that twins John and William were born to "John and Ann Teague" on 14 February 1802 "and privately baptised the same day" (the burial of infant William the same year is in the Creed records). The other John Teague was born June 28 1803 and baptised at Creed July 24 1803. In the Census records of 1851 (where ages seem to be more accurate than in 1841) the John Teague who married Jane and whose first son was Henry Purdue Teague is given the age of 47. The other John, who married Emma and had a daughter Ann (who later married Henry Purdue) is listed as being 49. These ages remain constant in the following census records. It seems safe to say that the twins were born in 1802 to the John Teague who married Ann Bray, while the last son of John Teague and Ann Pardew was the John born in 1803. The John Teague who married Ann Bray was baptised in Probus on 18 October 1772, son of Robert and Mary (Beel) Teague, from another branch of the family.


Ann Teague was buried at Creed on 22 March 1848 aged 75, John Teague, "aged 83" (so born 1770), was buried at Creed on February 26, 1853. This should be the John Teague aged 79 who was lodging with the Richards family at the 1851 Census, listed as "Pauper, once farm labourer."





The children of John Teague & Ann Pardew/Pardoe:
Mary Ann Teague Baptised at Creed September 4 1794 - buried in 1820 (Married Robert Teague 1817)
James Teague Baptised February 5 1797
Thomas Pentecost Teague born February 2nd, baptised March 3rd 1799, buried January 3, 1866 at Creed.

John Teague was born June 28 and baptised at Creed July 24 1803. John Teague aged 64 (= born 1803) was buried at Creed March 10 1867.



John Teague & Jane/Jenny Green
My great-great-great grandfather John Teague married Jane (Jenny) Green in Probus on December 25, 1827.





This is the point at which the 1841 Census records start to give more detailed, reliable information.



John Teague,35,,Agricultural Labourer,,
Jane Teague,,35,
Henry Purdue Teague,12, (baptised at Creed 1829)
Mary Teague,,10,
Ambrose Teague,8, (baptised at Creed Sept 14 1832, a daughter Ellen was baptised the same day but seems not to have survived)
Charles Teague,5, (baptised 1837)
Edmund Teague,3,
James Teague,1,



The 1851 Census gives a fuller picture of their family:


(list with added imports):

John Teague, (47, born in 1803), Land Drainer, born in Grampound Cornwall,

Jane Teague, Wife, (48, so born in c1803), born in Probus Cornwall,

Henry Purdue Teague, (21), Land Drainer, born in Grampound Cornwall, baptised 1829

Mary Ann Teague, (20), born in Grampound Cornwall, baptised 1834

Ambrose Teague, (18), Farm Labourer, born in Grampound Cornwall, baptised 1832

Edmund Teague, (13), Miller's Boy, born in Grampound Cornwall, baptised 1837

James Teague, (11), Miller's Boy, Grampound Cornwall, baptised 1839

Josiah Teague, (9), Scholar, born in Grampound Cornwall, baptised 1842

Heywood Teague, (4), born in Grampound Cornwall,


By the 1861 Census, only Josiah and Heywood were still living with their parents. Heywood then vanishes from England with no record of his death.
John Teague was buried in Creed on March 10 1867, aged 64, Jane Teague having been buried at Creed on November 12 1865.






Henry Purdue Teague & Ann Teague



On October 11, 1851, my great-great grandfather Henry (Rowe ? this name only in the marriage record) Perdew Teague" married Ann Teague at Creed. Ann Teague's maiden name was also Teague.
In the 1851 Census we find her still at home with her parents. Her father, another John Teague, had married Emma Barnicote at Creed on 17 Mar 1827 :
John Teague, Head, M,49, Shoe Maker Etc., born in Grampound Cornwall (but his baptism is not record at Creed?),
Emma Teague,Wife, M, 48, born in Tregony Cornwall,
Ann Teague,Daughter, Unmarried, 23, Farm Labourer, born in Grampound Cornwall,
[the 1841 Census also lists their son John Teague, 5, baptised 1836, who was buried April 25, 1843]



and at the 1861 Census, in the house next to Henry, Ann and their 4 children we find her parents:
John Teague,Head, 59, Ag Lab, born in Grampound Cornwall,
Emma Teague,Wife,M, 58, born in Tregoney Cornwall,



At the same 1861 Census, we find my great-grandfather John Henry Teague as a child living with his parents:

Henry (Purdue) Teague (31, born in 1829), Ag Lab, born in Grampound Cornwall,

Ann Teague, (33, so born in c1828), born in Grampound Cornwall,

John Henry Teague, Son, (8, born in c1852), Scholar, born in Grampound Cornwall,

Charles H Teague, (7), Scholar, born in Grampound Cornwall,

Amelia A Teague, (5), Scholar, born in Grampound Cornwall,

William B Teague, (3), born in Grampound Cornwall,

Just to confirm the identity of Ann Teague's parents, at the 1871 Census we find:
John Teague, 69, Butcher & Dairyman,born in Grampound Cornwall,
Emma Teague, Wife, 68, born in Tregony Cornwall,
John (Henry) Teague, Grandson, 18, Blacksmith, born in Grampound Cornwall. John Henry my great-grandfather was probably looking after the elderly parents of his mother.

By the 1881 Census, Emma has died and John Teague (78, "formerly butcher") is living next to the house of that same grandson, now the father of a growing family:


John Henry Teague & Elizabeth Stephens



Born in 1852, my great-grandfather John Henry Teague married young, at 20, in mid-1872, when the marriage of John Teague to Elizabeth Stephens was registered at St. Austell, and in the 1891 Census his first son Thomas was already 18 or so years old, his birth having been registered in 1873.


Elizabeth Stephens was born in St. Stephen in Brannel but by the 1861 Census and until the 1871 Census, just before her wedding, her family was farming in Garlinnick (spelled Garlennick in 1861) in the parish of Creed (Grampound). Her father was James Stephens (64), her mother was presumably dead by the 1871 Census, she was listed as Betsey Stephens (46) in the 1861 Census. Both parents were originally from St. Austell.



In the 1881 Census, John Henry has begun his family but my grandfather is not yet born:

John H. Teague, Head, 28, Blacksmith Master Employing 1 Apprentice, born in Grampound Cornwall,
Elizabeth Teague,Wife, 27, born in St Stephens Cornwall,
Thomas Teague,Son, 8, Scholar, born in Grampound Cornwall,,
Ethel A. Teague,Daughter, 1 month, born in Grampound Cornwall,

See the top of the page . . .

---
Of my grandfather's generation, only he and his younger brother Harold left Grampound and became part of modern urban society. Harold became a school master, and was headmaster of St. Paul's Junior School at the top of Agar Road, Truro, when I attended it from 1950 – 1953. He was socially active, a freemason, a Truro city councillor, alderman, and Mayor of Truro 1955 – 56, when the Queen made her first visit there (links to a Pathe movie of her visit, including shots with Uncle Harold) in pouring rain. We all went down to Boscawen Street to wave. Harold served in the trenches during the First World War and as a result suffered from terrible arthritis in the hips which left him severely crippled; he walked with the aid of crutches. He only had one eye, having tripped while running with scissors in his hand as a child. He had two daughters, Margaret and Jean.
Thomas, known to me as "Uncle Tom," lived a few miles away in the village called Grampound Road and for some strange reason I was never once taken to see him, neither by my father nor by Ruby Dunn with whom I stayed at Grampound several times. He married in 1898. Steve, Eva and Ethel never left Grampound. Eva remained unmarried in the family home, a rather intimidating old lady with a bristly chin, somewhat Methodist, stern though kind. Ethel married Tom Kemp in March 1931, they had no children and lived in one of the last houses at the top of the village. Joseph Stephens Teague, usually called Steve, became the postmaster of Grampound, the post office in my childhood being in the projecting porch of the house next above the Dolphin Inn. Steve married were Nora Annie Hutchens (born c1900 in Penzance) in 1923, and their first child, Nora E., was born in 1924. To avoid confusion with her mother she was usually called "Rona." Their son Richard H. S. Teague was considerably younger than Fred's sons Dudley and Leslie (my father), having being born in 1926. He worked in the Post Office, lived in Bristol, but contact was lost.
Fred Teague was my grandfather and the record of registered births (St. Austell, March 1886) seems to support the family claim that he was officially named Fred (as opposed to Frederick). Why he was simply baptized "Fred" while his younger brother was "Harold John Perdeux" is a mystery. Another Teague family in Grampound used the name Purdue, there might be a relationship.
By 1911 he had left Grampound and risen in social standing by becoming a "Sorting Clerk And Telpt (telephonist?)" in the GPO in Cirencester. He was lodging as a border at 2 Victoria Villas Victoria Road Cirencester on the 1911 Census day. He must already have been engaged, and his marriage with Frances Ellen Dunn, the school-mistress from up the road in Grampound, was celebrated in September that year in Grampound (almost surely at Creed Church a little outside the village).
Their first son, Frederick Dudley, was born at Cirencester on June 20, 1912. Their second son, Thomas Leslie, was born on February 2, 1914, also in Cirencester. He was my father. Both were always known by their second name, a common thing in their mother's family.
Not long after this they moved to Plymouth, living in the area of Devonport known as Peverell.


Leslie (my father) married Nan Albina Green at Kea Church in 1938, I (Anthony Graham) was born January 3, 1942, their only son.


Dudley married Jean Stewart from Calne in Wiltshire (born January 13, 1913) in 1940. Andrew Jeremy, their only son, was born in September 1951. He married Celia Marshal (born 1/11/49) in Brighton on 24 August 1982, and their children are Timothy (7/6/84) Amelia (1/11/85) Madeleine (3/8/88) and Cordelia (9/2/92) Of these so far only Amelia (Foster) has children, 2 boys, Freddie (24/7/13) and Luca (4/1/16).


Just as the Second World War began to bring destruction to Plymouth with the Blitz, my paternal grandparents left Plymouth and took charge of the Garland Ox Inn in the centre of Bodmin. There they lived until 1947, when they retired to Winton / Moordown on the outskirts of Bournemouth, at 2 Grenfell Road. There Fred ("Pop") died of bone cancer in 1959 and some time later Gran went to live in a flat in Dudley's house at Ryde, Isle of Wight. Dudley died on April 26, 1991. Like my father, he had only one son, Andrew Jeremy Teague, born on September 25, 1951. I do not know if Gran ever knew that her grandfather John Dunn had lived on the Isle of Wight or that her uncle John had been born there.