TRANSACTIONS
of the Royal Asiatic Society Korea Branch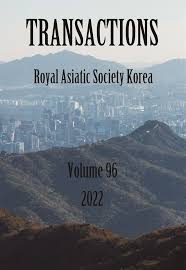 From October 1900, the year the RASKB was founded, it began publishing an annual journal,
Transactions
.
Back issues of which are available in a complete set of bound reprints and/or originals from
the RASKB office
.
Indexes to and the contents of the complete series can be viewed through the links at the foot of this page.
---
General Editor : Jon Dunbar



Transactions is a fully refereed journal published once a year in May. Papers about any aspect of Korea, past or present, may be submitted for publication in Transactions at any time. They should be serious, well documented studies on topics related to aspects of Korean nature, culture and history etc. Romanization of Korean names etc should use the current official Korean government system or the McCune-Reischauer system. Papers should not normally exceed 15 single-spaced A4 pages. Documentation (citations) should be in footnotes style. Illustrations that would require printing in color are not acceptable for reasons of cost.


Inquiries and submissions should be addressed by email to the

General Editor
---
Transactions
Indexes
Transactions
through Volume LI, 1976, are numbered using roman numerals.
Beginning with Volume 52, 1977, arabic numerals have been used.
Indexes to the complete series can be viewed through the links below.

The entire contents of Transactions can now be viewed freely online as MSWord files and as PDF files
through this linked Index.

The scanning was done at Inje University Library with generous funding from the Academy of Korean Studies.
Scans of The Korean Repository and The Korea Review were part of the same project .

---