Carlo Rossetti : Photos

Taken from Carlo Rossetti, Corea e Coreani: Impressioni e Ricerche sull' Impero del Gran Han
(Bergamo, Instituto Italiano D'Arti Grafiche - Editore. 1905)

Click HERE for a slideshow

The many photographs and drawings illustrating the 2 volumes of Rossetti's work (itself very rare, available in recent French and Korean translations) constitute a precious early record of pre-Japanese Korea. Taken during a visit that began in 1902, and with assistance from a Japanese photgrapher named Murakami. A fuller account can be found (in Italian) in the page devoted to an exhibition of Rossetti's photos held in Rome in 2003.

1. The Altar of Heaven in central Seoul, the main pavillion survives inside the Choson Hotel garden.
2. A view looking toward Nam-san
3.The road leading from the South Gate (Sungnye-mun) toward Myongdong
4. Women from the countryside
5. Children
6. View of the gate Rossetti called "Porta della Bocca del Acqua" [?]
7. Hongji-mun : part of a fortress near Segeomjeong called Tangchundaeseong, which was built in 1715; the five-arch water gate (Ogansumun), allowed the Hongjecheon Stream to flow unimpeded.
8. City walls near the western gates with the French Legation just inside the walls.
9. View from Nam-san looking toward Myeongdong Cathedral.
10. Gwanghwa-mun from the inside of the palace.
11. Gwanghwa-mun from the South.
12. The North Gate (Baldal-mun) in Suwon Hwasong walls. (Rossetti wrongly says it is the Little East Gate of Seoul)
13. The walls near the West Gate (Tonui-mun) from the outside with the French legation visible.
14. Yeongeun-mun (literally "welcoming gate for charity") where envoys from China were welcomed. After the wooden top was demolished in 1896, its two pillars remained near the Independence Gate built to replace it. In 1979 that was demolished and the current imitation built some 70 meters to the north-west. The pillars now stand just behind it.
15. Children
16. A pottery store
17. View from the top of West Gate (Tonui-mun) looking East with the bridge connecting the most northwest end of Deoksu Palace to Gyeong Hui Gung, just inside of West gate.
18. The entrance to Toksu-gung
19. The old equivalent of a taxi driver
20. Gyotaejeong, the residence of the Emperor Gojong in the center of Gyeongbok-gung palace with the chimneys of Anmisan gardens. (Rossetti wrongly says it is the Geoncheonggung Residence in which the Empress Myeongseong was killed)

A collection of 94 negatives formerly belonging to Rossetti and mainly taken by him were offered by Sotheby's in 2015. There are 5 photos in the sale catalogue.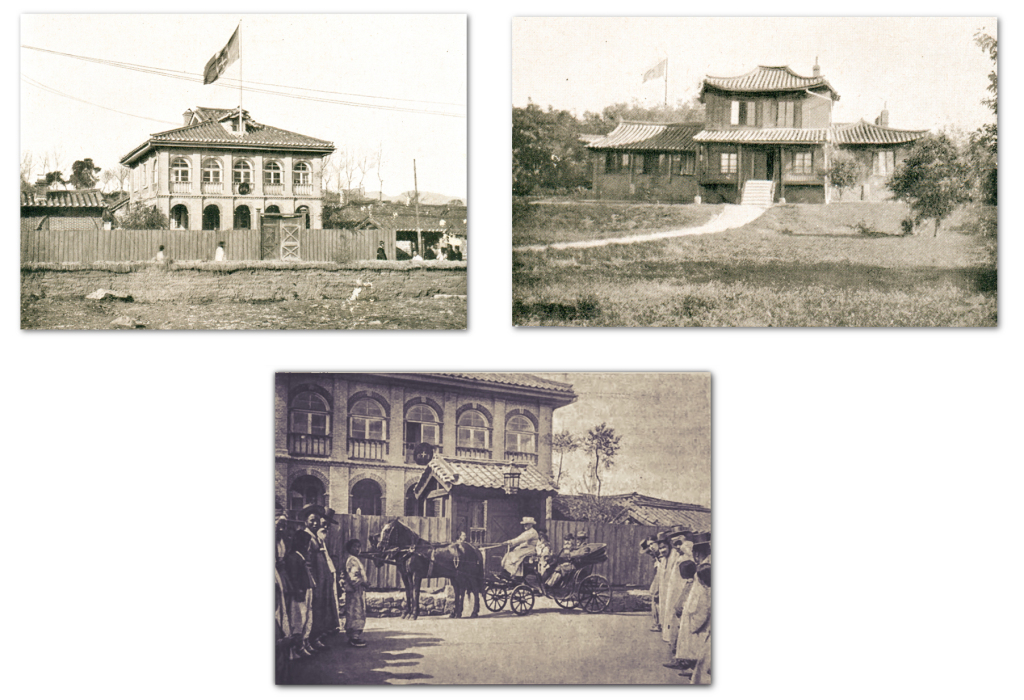 3 photos of The Italian legation and consulate (the legation top left and bottom)