June 2008 News of the RAS-KB

Report on Recent Tours
by David A. Mason

---
The RAS offers tours to sites all around Korea every weekend around the year, often led by Members of the RAS Council as expert academic-level guides. They continue to be very much enjoyed by the participants.
Some of the most successful tours in the past year have been to the Seorak-san Mountains, Namhae-do & Jinhae Coastal Areas, the grand Magok-sa, Haein-sa and Tongdo-sa Temples, Ganghwa-do Historic Island (including a stop at the lovely countryside home of former President Dr. Y D Kim), and the Tong-gang River-Rafting Tour. In March, a special trip to Sudeok-sa Temple in the Deoksan Provincial Park had 16 people go along, and the Icheon City Pottery Kiln Tour was as popular as usual, with 23 attending.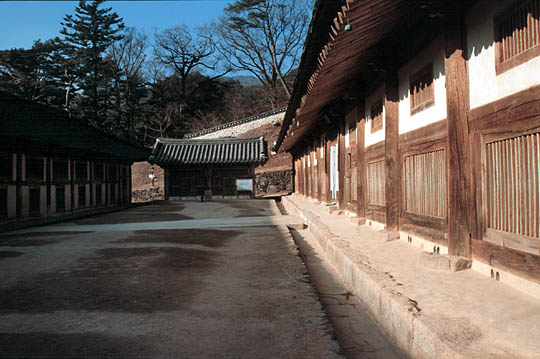 Haeinsa : The buildings housing the Tripitaka Koreana

April is the month for flowers, and more than 50 foreign residents attended the two Gyeonggido Cherry Blossom Tours we held; and 15 joined us for the Chollipo Arboretum Magnolia Tour. May is always the busiest month for tours and festivals, and this year was no exception. 57 international friends joined us for our famous Buddha's Birthday Tour of five different temples in Seoul (led by Professor David Mason), and we saw two different complete performances of Korea's unique Beompae Buddhist ritual music and dance. In addition, our trips led by Dr. Daniel Adams to the Jiri Mountains National Park and Gyeongju the Ancient Capital were also notably successful.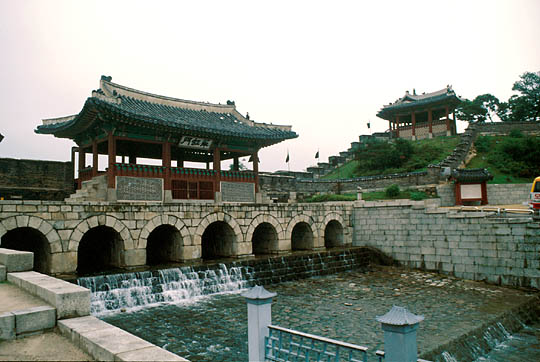 Hwahongmun floodgate at Hwaseong Castle, Suwon

With the high cost of vehicle fuel and everyone being intensively busy with their lives in Seoul, daylong and half-day walking-tours inside Seoul itself and within the Gyeonggi Province area surrounding it are constantly gaining in popularity. Those that by now have become perennial favorites that were very well attended this year included tours of the Bukchon Neighborhood of traditional Hanok Korean Houses (led by Mason), the Joseon-Dynasty Architecture of Downtown Seoul (led by Peter Bartholomew; he will also guide us to Suwon's Hwaseong Castle in June). A recent new edition is our hike along the 600-year-old Seoul Fortress Wall with Gates, over formerly-closed Bugak-san Mountain; this has become so popular we are holding it twice per year.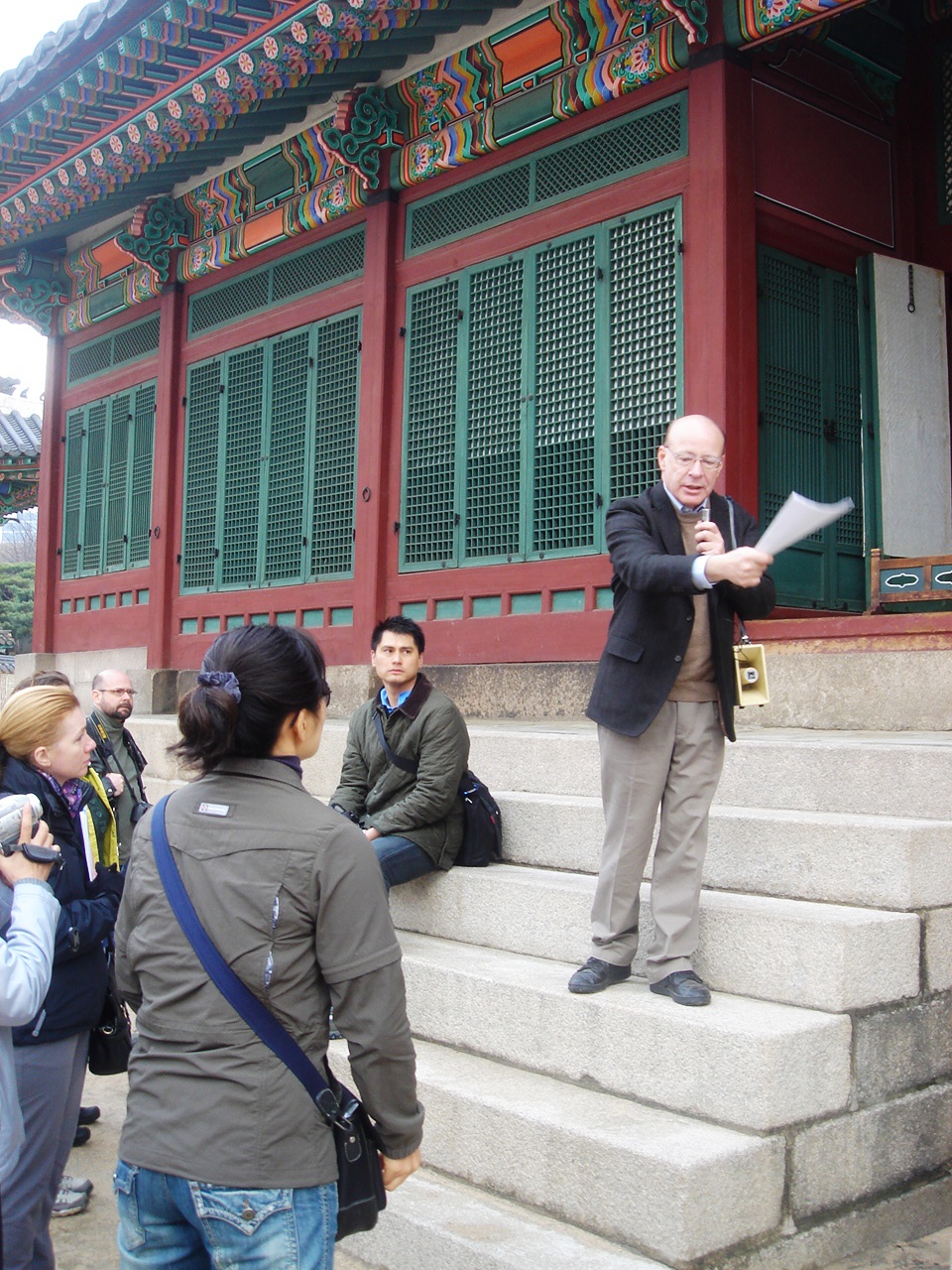 Our President as guide

Another great tour opportunity came up this year, going for just one day to Gaeseong City in North Korea. This was the capital of the Goryeo Dynasty when Korea was an officially Buddhist kingdom, 935-1390 CE. It has just recently opened up for tours of its new industrial zone and few remaining historical relics that are open to South Koreans and international visitors alike; 30 friends joined us on our first venture there on May 12th.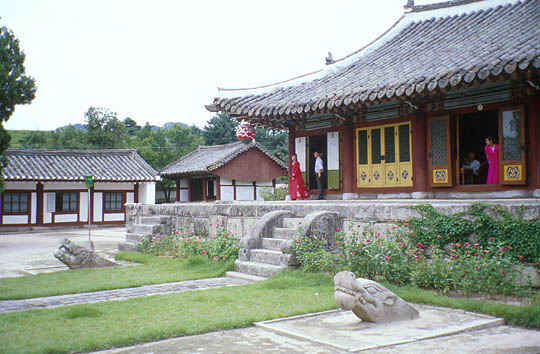 Seonggyun-gwan (University) in Gaeseong

This makes a very interesting addition to the other North Korean tour open to us, the famously-beautiful Geumgang-san Diamond Mountains; this Spring our April 25-27 expedition attracted almost 20 participants. We will probably offer both of these tours twice per year because it is so popular to get a look at the rigidly-closed and secretive DPRK.
The RAS continues to run a few tours each year to neighboring Asian countries, and these are almost always successful and highly appreciated. We held a special tour to Japan's main Honshu Island including Kyoto, Nara, and Osaka on April 11-14th, and this one included more walking, a geisha performance, and staying at a traditional inn, which were all well received by the 22 participants. That one went so well, in fact, we will offer it again in the middle of this October.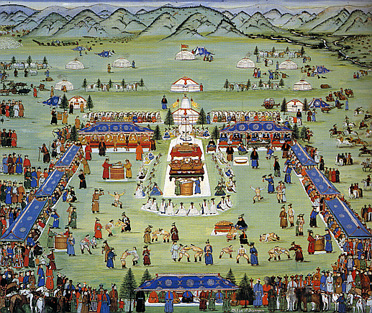 The Nadaam festival in Mongolia, painting by L. Dar'suren, 1967

Those lucky ones registered are now waiting expectantly for this summer's spectacular excursion to Mongolia (!!) on July 9-15th, including the Nadaam National Festival of colorful traditional religious rituals and sporting events. This Autumn we are offering to different Chuseok Holiday Tours, Friday to Monday September 12-14th – one to China (Beijing, Xian and Shanghai) and the other to North Korea's Geumgang-san Diamond Mountains. October 3-5th will see a very special first-time tour to Tsushima Island (off the coast from Busan, the closest part of Japan to Korea). For this winter's Christmas Holidays Overseas Tour, we are planning to offer Cambodia and/or Vietnam, as those nations have proved so rewarding to travel in.
Back here in Korea, we are now looking forward to summertime delights such as the various island-hopping and beach-visiting tours along the West Coast. Our ever-popular Jeju-do "Island Of The Spirits" Tour is also coming up in that month. And then the new fall tour schedule gets going in August! We of the RAS continue to restructure our annual tour schedule in order to provide more of the kind of tours that our members really want to go on. We remind our overseas members that if they do visit Korea they should definitely plan on taking at least one of these excursions during their stay. Just take a look at our website and then contact the RAS office for more details about costs and logistics.
On the general Korean Tourism scene, the government reports that foreign tourist arrivals rose by 12% in the 1st quarter of this year, and attributed that to the weakened value of the Korean Won currency – Korea is cheaper to visit now than it has been quite a while, and if you haven't been here in a few years you might want to consider this factor. There's been a lot of interesting recent news on the holding of more major international events, following the successful 2002 World Cup Finals, 2002 Busan Asian Games and 2003 Daegu Summer Universiad. As you have probably heard, Pyeongchang County out in Gangwon Province lost its second bid to host the Winter Olympics by just a few votes; a Russian resort will hold the 2014 Games instead. This was heartbreaking for everyone across the nation who worked so hard on that bid, but there will be yet another chance in four more years. At least, Yeosu City way down on the south coast won its very strong bid to host the 2012 World Expo, and is now busily preparing new festival-events and fresh tourism-programs to attract visitors to its spectacular seaside beauty.
Seoul City is launching a new tourism package for international taekwondo buffs, now offering a "Taekwondo with Korean Classical Music" performance for free every Wednesday and Saturday in the courtyard of Gyeonghui-gung (palace). Tourists can also experience samulnori dance, kukak (Korean classical music), martial arts meditation and other programs. The park-like village of traditional Korean houses located at the foot of Namsan, the mountain in central Seoul, has extended its opening hours into the evenings and will hold additional traditional-culture-experience programs centered on architecture, folk-games and green tea through October. The restoration of the Cheonggye-cheon Stream in the heart of downtown Seoul was the most welcome development in recent years, and it is now attracting 100,000 visitors per day. It's now possible to start at City Hall and walk alongside the stream all the way down to the major new Seoul Forest Park, at its confluence with the Han River; this is becoming an increasingly popular "urban nature hike".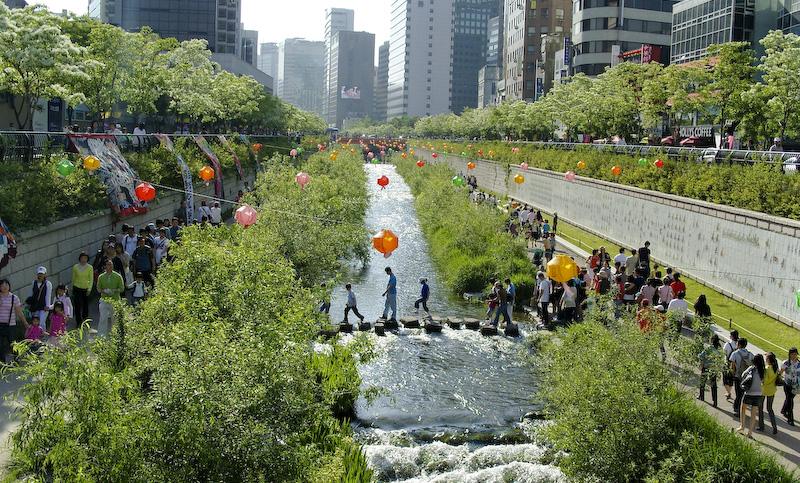 Cheonggye-cheon Stream

---