Henry James Whigham

H.J. Whigham was born Christmas Eve 1869 in Tarbolton, Scotland, to one of the more prominent families of British society. He had four brothers, all of whom carved distinguished careers in either British finance or politics or the army. H.J. Whigham graduated in 1893 from Queens College, Oxford University, where he had captained the school¹s golf team the previous year. Whigham and several of his fellow golfing Oxonians came to America in summer 1893 for the Chicago World's Fair to demonstrate how golf should be played. This was arranged by Charles B. Macdonald, who was acquainted with Whigham's father, David Dundas, while they were students at the University of St Andrews in Scotland.

Whigham again returned to Chicago in 1895 as an instructor of English and economics at Lake Forest College, and as a guest lecturer at a variety of Midwestern universities. During this time, Whigham assisted Charles B. Macdonald, Herbert James Tweedle, and Robert and James Foulis in designing the original nine holes (now the incoming nine) at the Onwentsia Club, at which Whigham was a regular dues-paying member. He won the U.S. Amateur in 1896 and 1897, a much-admired feat. Following his first win in the U.S. amateur, he wrote a golf instruction book, How to Play Golf.

From 1895 to 1897, Whigham was drama critic for the Chicago Tribune.He left in 1898 and spent the next seven years as a war correspondent, beginning with the Spanish-American War in 1898. He then went to China to cover the Boxer Uprising and from there went to Manchuria, intrigued by the Russian occupation which he describes in his book Manchuria and Korea. This was written late in 1903 and published in 1904 without the more general chapters he otiginally intended to add. Instead he went on as a reporter to cover the war between Russia and Japan. He visited Korea in 1902, it seems, and describes his impressions (he stayed at the British Embassy) in a lively, journalistic style.

In 1907 , Whigham returned to the U.S. to help his friend Macdonald design of the National Golf Links of America in Southampton , N.Y. While Whigham assisted in the creation of one of America's great golf links , the summer moonlight in Southampton was spinning its magic upon him.Whigham was also falling in love with Charles B. Macdonald's daughter , Frances.The two were married in 1908 and eventually produced a daughter, Sybil.

At age 41 , in 1910 , Whigham became editor-in-chief of Town & Country magazine , a position he held for 25 years.Whigham's views included support for then-unpopular causes.On U.S. foreign policy , he was a staunch anti-isolationist.He also backed the Woman's Suffrage movement.In the 1920s , as golf courses were sprouting up across America and the country club was establishing itself as a unique social institution , Whigham was an editor at the right place and time.He regularly reported on national and international championships , and his knowledge of tournament golf and of course design gave his profiles of new courses a rich authority.He also displayed a romantic and literary prose style.

Whigham authored several books on international politics and conflict, including The Persian Problem, published in 1903, and Manchuria and Korea, which came out in 1904 while he was reporting on the Russo-Japanese War. In 1936 he wrote The New Deal : English and American.

On March 17 , 1954 , at age 84 , Whigham died in Southampton , N.Y. , less than two miles from Shinnecock Hills Golf Club , where a half-century before he had captured a second U.S. Amateur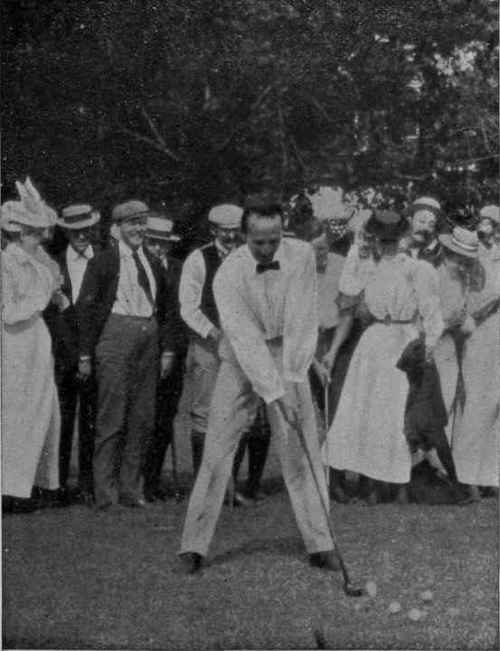 His father, David Dundas Whigham, was born 22nd August 1832, St Stephens, Edinburgh, Midlothian, Scotland and died 27th October 1906, Prestwick, Ayrshire, Scotland.

His oldest brother made really good: Major-Gen. Sir Robert Dundas Whigham, K.C.B.,K.C.M.G.,D.S.O.— Cr.K.C.B.1917, K.C.M.G. 1919. Eldest son of David Dundas Whigham, Esq., of Dunearn, Prestwick, Ayrshire, who d. 1906, by Ellen Murray, dau. of the late James Campbell, Esq., of Craigie, Ayrshire ; fc. 1865 ; m. 1899 Isabel Adeline, younger daughter of the late Frederick A. Muntz, Esq., of Rossmore, Leamington. Sir Robert Whigham, who was educated at Fettes Coll. and at the R. Mil. Coll., Sandhurst, is a Major-Gen., late R. Warwickshire Regt., and a Comm. of the Legion of Honour and of the Belgian Order of Leopold ; was .A.D.C. to the Gen. Officer Comm. the Highland Brigade and subsequently D.A.A.G. at Headquarters in S.Africa 1899-1902; a D.A.A.G. 1906-9 ; a Gen. Staff Officer at the War Office 1909-14' Sub-Chief of the Gen. Staff, with the rank of Major-Gen., 1914-15, and Deputy Chief of the Imperial Gen. Staff and a Member of the Army Council Dec. 1915-1 918 ; appointed to the Expeditionary Force in France 1918 and to command a Div. 1919 ; has the Russian Order of St. Vladimir, 4th Class, the Japanese Order of the Rising Sun, 2nd Class, and the French Croix de Guerre.— Naval and Military Club. See portrait.